The City of Deming, N.M., has worked with Affordable Solar to complete three solar system installations that now deliver electric power to the City's Waste Water Treatment Plant and the Bilbo Well and Booster Stations which are part of the City's water system.  These solar projects are a great example of a public-private partnership that benefits the City, its residents, and involved businesses.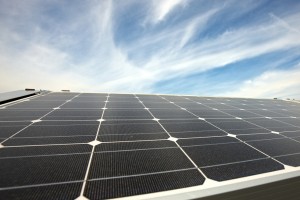 "We are excited to be a participant in this renewable energy project. It not only helps the City water and wastewater facilities stabilize their energy costs over the next 20 years, but it furthers the City's greener approach to the environment," said Mayor Andres Z Silva.
The City of Deming did not have to fund the construction of the solar projects.  Rather, the City committed to purchasing solar generated electricity at a fixed price for the next 25 years.  This power purchase agreement is expected to save the City approximately about one million dollars over the contract term and will provide a hedge against volatility in electricity costs over the coming decades.  These savings and better control of electricity costs will translate into better control of water rates for the residents of City of Deming.
Combined, the three solar systems installed by Affordable Solar utilize close to 3000 solar panels to locally generate approximately 1.5 million kilowatt-hours of clean electricity per year.  In comparison, this is enough energy to power approximately 160 average homes.
"Affordable Solar had the pleasure of working with the City of Deming administration and water utility staff to help the City achieve this milestone," said Ryan Centerwall, General Manager of Affordable Solar.  "We commend the City's commitment to reduce utility costs for its residents."
The solar system components utilized by Affordable Solar to complete the three projects include utility-grade solar panels manufactured by Trina Solar. The solar panels are secured on the ground using a solar mounting system made by UNIRAC, an Albuquerque, N.M., based manufacturer.  The solar panels generate clean, direct current (DC) electricity from sunlight and feed it to high quality inverters manufactured by SMA and Advanced Energy.   The inverters converter DC electricity from the solar panels into alternating current (AC) electricity that is utilized by the City's water facilities.  The facilities remain connected to the utility grid which provides the balance of electricity needed by them.
— Solar Builder magazine
[source: http://www.solarbuildermag.com/news/affordable-solar-installs-three-solar-systems-in-new-mexico/]