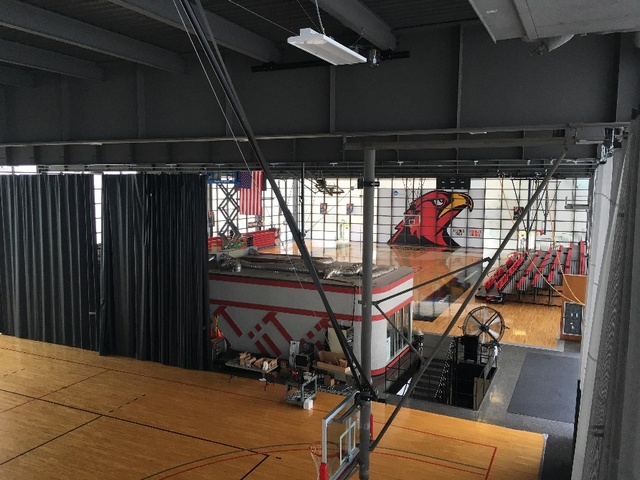 An innovative AC/DC nanogrid at the Illinois Institute of Technology's (IIT) Keating Sports Center was just completed by a team of Aquion Energy, manufacturer of Aqueous Hybrid Ion batteries and energy storage systems, Schneider Electric, specialist in energy management and automation, and Azimuth Energy, a solar-energy and energy-efficiency engineering and construction company.
"This is the future of distributed generation, where isolated loads powered by renewables combined with energy storage can stand alone and operate without the grid," said Tim Poor, chief commercial officer of Aquion Energy. "Our safe and sustainable Aspen batteries are the optimal choice for long-duration storage and deep daily cycling, from nanogrids like this one at IIT to microgrids, island communities, and other nanogrids such as telecom base stations."
The nanogrid, which was designed and installed by Azimuth Energy, is a combined solar-plus-energy-storage system that uses Aquion Aspen batteries for storage and Schneider power control electronics for energy management. Aquion's Aspen product line is optimized for daily deep cycling for residential solar, green architecture, off-grid and microgrid, telecom towers, energy management, and grid-scale applications.
RELATED: Microgrids: Why are they gaining in popularity, what part does storage play? 

The IIT nanogrid is unique because it supports both AC and DC loads. During the day, the solar array directly powers the highly efficient DC LED lighting systems and AC loads, while simultaneously charging the batteries. Any excess solar energy can be exported to the grid. In the event of a grid outage, the batteries and solar panels deliver energy to the system 24/7.
Although the Keating nanogrid has a connection to the campus microgrid, it is engineered to operate autonomously using only solar and batteries, as an island off-grid system. The nanogrid is a demonstration of how a solar plus storage system can provide resilient electricity for critical building loads during power outages, such as police stations and hospitals. In the case of an outage, any building with a nanogrid could continue to be powered by its own sustainable, self-generated electricity. The nanogrid also allows building operators to respond to their power demand and control how and when they use power from the microgrid – and ultimately from the utility.
— Solar Builder magazine