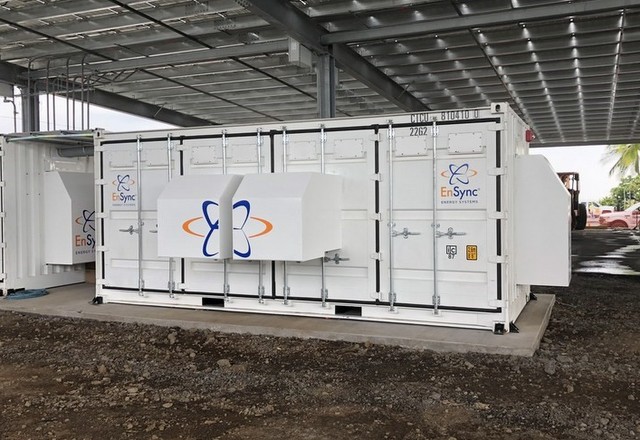 An advanced energy generation, storage and management system at a Spectrum facility in Kailua-Kona, Hawaii, is now live, as part of a power purchase agreement owned by a leading U.S. infrastructure investor, according to EnSync Energy Systems, a developer of innovative distributed energy resources (DERs). Spectrum, the consumer brand of Charter Communications, offers a suite of advanced broadband services and is the second largest cable operator in the United States. The project is sited on a headend operations facility, which handles the processing and distributing of broadband data.
EnSync system made it easy
EnSync Energy's modular technologies enable greater standardization for similar large-scale telecommunications facilities to increase renewable energy use and implement demand charge mitigation. EnSync Energy designs its systems based on understanding and predictive analysis of the site's load profile and behavior. Headend and hub facilities have some of the flattest building loads, so EnSync Energy developed this specific system for consistent daily demand.
For Spectrum's Kailua-Kona facility, the flat load is usually between 90 to 100 kilowatts (kW) and is now being supplied with 400 kW of carport-mounted photovoltaics and two EnSync Energy DER SuperModule units. The excess solar energy is stored in the SuperModules' cumulative 1,008-kilowatt hours (kWh) of lithium ion energy batteries. When on-site solar generation ceases, the system discharges the batteries to provide the facility with energy. The DER Flex software and Matrix Energy Management hardware, which are housed with the energy storage in a SuperModule standard intermodal container, manage the system's intelligent features.
Arizona Public Services territory sees a bunch of Phazr MicroStorage installs to shave peak demand charges
The scalable and adaptable structure of EnSync Energy's solutions are not only flexible to the facility's changing needs but also replicable on a larger supply chain scale with other headend and hub facilities, facilitating streamlined, homogeneous implementation across building portfolios. The modular design also enabled faster project commissioning, which was completed over seven days.
The system's hardware and software use an Internet of Things platform to provide visibility into site operations, assess external variables from market price signals to modeled load needs and control the system to ensure the highest value, most reliable power. The Spectrum facility will use the system for various grid service applications including load shifting and demand charge mitigation. By addressing the facility's renewable energy use, the project will support Hawaii's goal to achieve 100 percent renewable energy by 2045.
While the project will not export electricity to the grid, the system infrastructure has the capability to export, providing the facility an opportunity to participate in potential export grid services if offered by the local utility in the future.
— Solar Builder magazine