Instead of losing precious solar space because of vents and pipes, why not raise the panels above the problem?
Flat rooftops are very rarely flat. The roof might be flat, but other things protruding out of the roof ruin the relatively smooth landscape. Vents, pipes and air-conditioning units all throw a wrench into plans for an entire rooftop full of solar panels with no interruptions.
That is, until now. Washington-based racking and mounting manufacturer Sunmodo took the idea of a ground-mount, made it stronger and stuck it above vents and pipes on the roof. Instead of single rows of panels with spaces skipping over vents, the Sunmodo SunBeam system allows complete, uninterrupted rows of solar all elevated above roof obstructions.
"One of the main objectives of the SunBeam system is to maximize the roof space," says John Quintero, strategic accounts manager for Sunmodo. "In traditional commercial systems, you usually can only use the space that is available that has no pipes or vents or AC units or any obstructions in the way. They have to work on the space that is up there [and] work around things."
The all-aluminum system does look very similar to a ground-mount, especially when it has panels tilted. The SunBeam system is offered in two configurations — a tilted system and a flat system tilted just enough for water runoff.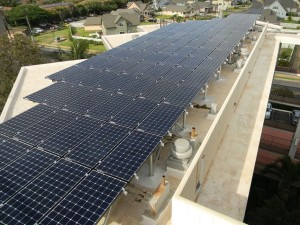 "With [the flat system], you really maximize the space," Quintero says. "Yes, the panels are not going to produce as much power output as the tilted, but you're getting more [panels] on the roof. In extreme situations, there are not just vents [on the roof]. There are a lot of pipes up there. A flatter system solves all of those issues. It maximizes space, withstands high winds and corrosive salt."
The system comes with a penetrating base and heavy-duty rails and clamps to ensure the system withstands windloads. The SunBeam system is very flexible and allows for on-the-fly modifications.
"Not everything is always perfect on the roof," Quintero says. "They might have to do some slight adjustments and the system allows for that in many different ways."
The beams, which run horizontally and parallel with the rooftop, are adjustable for any height. The rails can also tilt to whichever angle is necessary.
There is no height requirement for the flat system. The posts can be adjusted to 18 in. tall or 4 ft; it's really up to the customer. There are no walkways between rows with the flat system. It essentially looks like one complete, seamless system. Panels can run in portrait or landscape orientation.
The SunBeam system was released to customers in late 2012, and it's already seen success across Hawaii, the Northwest and the East Coast, mostly on hotels and condominiums. Hawaii installer HNU Energy has used the SunBeam product on a number of projects, including a few condominiums.
Chauncey J. Brown, vice president of HNU Energy, stumbled upon Sunmodo at a trade show in 2010. Finding Sunmodo's components to be reasonably priced, he decided to try out some racking profiles on jobs back in his home state.
"Sunmodo was the first company I found that was willing to design a product to meet my needs," Brown says. "I was in search of a racking solution for a commercial client that was strong enough to elevate above obstructions so we could get [the] most amount of power on a compact roof area. Most of these commercial buildings were located directly on water [so] products needed to be able to withstand sun, saltwater, seismic activity and high winds in addition to meeting strict structural engineering guidelines. Sunmodo designed SunBeam to meet these needs."
Brown says the SunBeam system provides "an outstanding platform" for installing all types of solar power arrays.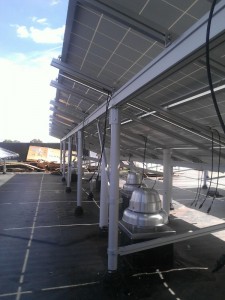 "In conjunction with a high efficiency solar module, [the SunBeam system] provides the maximum amount of power possible," he says. "It allows you more power and a stronger foundation than any other product I've found. SunBeam mounting feet are customizable and can be used with every roofing surface I've found."
The success of the SunBeam system on rooftops has allowed Sunmodo to develop its ground-mounts to go all-aluminum as well. Aluminum systems cost less to produce, cost less to ship and are more flexible than traditional steel systems.
"The more we produce, the cheaper it is for us, and we pass that on to our customers," Quintero says.
Brown says Sunmodo has been a great company to work with.
"Sunmodo has been phenomenal," Brown says. "If they don't have a product that meets your needs, there is a good chance they'll create one."
By listening to customer feedback, Sunmodo has managed to produce a system that stands apart. The SunBeam system — and its elevated components — really does raise Sunmodo to a level higher than the competition.
— Solar Builder magazine
[source: http://www.solarbuildermag.com/featured/sunmodo-sunbeam-mounting-system/]