Just when you thought costs couldn't get lower, integrated balance of system developments help save even more on installations.
By Charles W. Thurston
Driving down cost has been the mantra in the solar industry for several years and once module prices dropped by 75 percent, manufacturer focus has turned squarely on balance-of-system (BOS) savings through integration. Racking, microinverters, combiner boxes, grounding wire and optimizers are among areas where new developments are helping hold the line on installers' profit margins.
While material cost savings are a key benefit to the integration effort, installation time is where the greatest savings occur. Several manufacturers assure that installation time can be cut 50 percent through factory integration, as opposed to field assembly of systems sourced from multiple vendors.
Racking-to-Module Integration Evolves
Perhaps the primary area of design savings in BOS integration is the combining of the racking system and modules at the factory.
Westinghouse Solar came out with the first such integrated system in 2007, based on a grooved channel on the frame that permits rapid attachment to racking. The company has since refined that design into its current Instant Connect model, unveiled in October 2012, which now uses 80 percent fewer parts than a non-integrated system, says Roger Pang, the director of business development for Westinghouse Solar, based in Campbell, Calif.
"Our plug-and-play design involves only nine SKUs (stock-keeping units) versus 20 to 30 SKUs for a site-installed system from different component suppliers," Pang says. "We trained Habitat for Humanity workers in one night, and they installed systems the next day." One former official at Westinghouse Solar says that the integration of the Westinghouse system reduces the cost of a system by 25 cents per kilowatt of capacity.
Zep Solar, another pioneer in BOS integration, invented the Zep Groove design in 2009 to facilitate the panel-to-support system. According to Executive Vice President Daniel Flanigan, the San Rafael, Calif.-company now has forged strategic partnerships under its Zep Compatible program with 12 panel makers and with three other solar electronics manufacturers, further establishing its technology as an industry standard. Zep recently signed a two-year agreement to supply installation systems to Solar City, one of the largest residential installers in the United States.
Another integrator, SunLink, also based in San Rafael, joins racking to panels at its facilities, shipping palleted "pre-panelization" units to the jobsite, says Yuri Resnikov, the company's vice president of product and strategy. Using SunLink's legacy RMS system, "a four-person crew working a 7.5-hour day can install up to 180 modules per day," the company calculates.
And Lumos Solar, based in Boulder, Co., offers integrated racking with frameless panels in its LSX series of products. Its system "can withstand wind loads of 130 mph and 30 pounds per square foot of snow," the company indicates.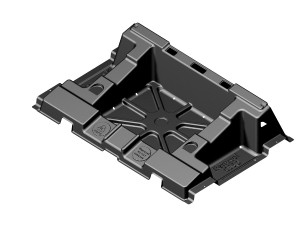 Integrated Ballast Systems Save Time
One racking-to-module integration application that is now well tested in the market is ballast-mounted panels on flat roofs, and recently on sloped surfaces as well. "In the last couple of years we have expanded from flat roof-mount to ballasted ground applications," says Resnikov of SunLink. To date, the company has supplied integrated systems to more than 1,200 installations totaling 250 MW in yield.
Another supplier of integrated rooftop ballast systems, Renusol America based in Atlanta, offers a "one-size, one-panel design" with its CS60 system, which includes a molded plastic skirt base that resembles a custom-formed packing protector that might be used in box packing for shipping. The integration between panel and ballast saves close to 25 percent of the parts needed for a non-integrated system, and is faster to install, the company indicates.
A similar design is that of Solon's SOLquick system, that features a mounting skirt for frameless modules made from Andersen Windows' Fibrex, a patented wood fiber and thermoplastic polymer composite. Albuquerque, N.M.-based Solon estimates that installers can put up 15 units or 4.2 kW per man-hour using SOLquick.
Combiner Boxes & Electronics Integration
Another area of system integration is in combiner boxes and wiring simplification. SunLink offers "Home Run" combiner boxes that will adapt to "more than 2,500 possible combiner box assemblies to support multiple installation configurations," the company indicates.
Several integrators note that their systems do not require separate bare copper grounding wires. Zep Solar has strategically partnered with microinverter maker Enphase, optimizer maker Tigo and monitoring system maker SolarEdge Technologies to help integrate electronics within and outside panels.
Future Developments
One area of ripe potential for factory integration is an interface with the utility. "In the future perhaps we will see a system that would enable a do-it-yourselfer to plug into the load center," predicts Pang.
Another advancement in panel-racking integration will come from the use of powerful adhesives in place of clips, rivets and screws. "We are working with a billion-dollar adhesives maker to adhere metal struts to the backs of panels and expect to announce the design soon," Resnikov says of SunLink.
Among other expected developments in BOS integration is the establishment of industry benchmarks for installation time, says MJ Shiao, a senior analyst in solar markets at GTM Research. "There needs to be a baseline for comparisons; that will be our next area of research," he says.
Limits to Growth
"If you look at SunPower and Solon, they are primarily module makers, so it was easier for them to develop an integrated mounting system that was customized to their module than it would be for a racking company to develop universally adaptable integration," observes Shiao.
Warranties also need to include the engineering, procurement and construction companies (EPCs) so that entire systems are covered by one policy rather than through a mix of individual component manufacturer warranties, Shiao says.
Charles W. Thurston is a freelance writer who covers solar energy from Northern California. Reach him at chaswt@gmail.com.
— Solar Builder magazine
[source: http://www.solarbuildermag.com/featured/integrated-balance-of-system-solar/]