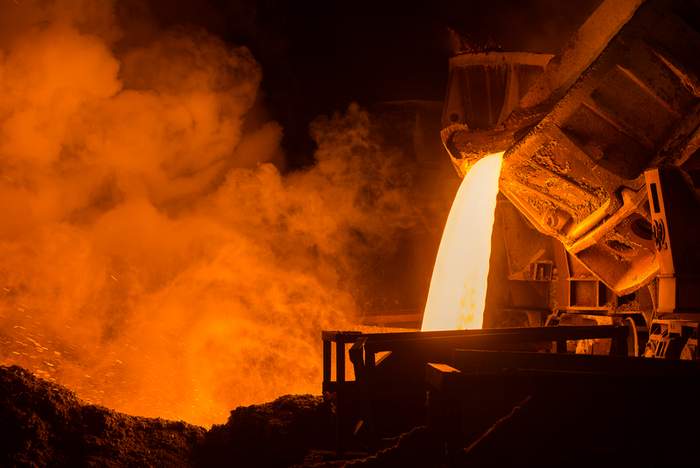 Green energy sources like solar are the best energy solutions for the planet, but they also aren't perfect. Example: At the largest conference in the U.S. dedicated to green building, Mighty Earth released a new report pointing out the enormous carbon footprint of steel used in green construction. The global steel industry emits 2.3 gigatons of carbon dioxide each year – equivalent to the emissions from 569 coal plants.
The report shows that the industry could easily take action to mitigate its climate impact: if all steel manufacturers sourced electricity for their electric arc furnaces from clean energy sources, they would reduce the carbon footprint of those facilities by 44 percent.
"We're releasing this report at Greenbuild to show that even the greenest buildings are using steel produced with dirty electricity," said Margaret Hansbrough, Mighty Earth Campaign Director. "We can no longer ignore the tremendous amount of energy used in the steel manufacturing and recycling process – and how that electricity is being generated. It's time to take these emissions into account and for builders to address the impact on our climate."
The report, Construction Destruction: The Hidden Carbon Costs of Dirty Steel, calls on construction industry behemoths Skanska, Turner Construction, Clark Construction and AECOM to commit to only source steel from manufacturers that have switched to clean energy for all grid-sourced electricity.
As buildings have become increasingly efficient in operation and design, fewer emissions are coming from their operational footprint and the industry is shifting some focus to decrease the embodied carbon of steel and other building materials used in construction. Skanska, Turner Construction, Clark Construction and AECOM are some of the most influential players within the green building industry, but these companies have yet to commit to only buying materials with the lowest possible global warming potential. Skanska is considered the greenest of the group and has committed to becoming carbon neutral by 2050.
"Each year, the embodied carbon of all building materials accounts for 11 percent of global emissions and 28 percent of global building sector emissions," said Hansbrough. "As buildings emit less day-to-day, their embodied carbon will take up an even greater proportion of their climate pollution. As the largest steel consumer, construction companies must ask their steel suppliers to commit to clean electricity and take other steps to dramatically reduce their emissions."
Mighty Earth's first report on the steel industry, Cold Steel, Hot Climate: The World's Biggest Untapped Clean Energy Opportunity, called upon the entire steel industry to shift toward carbon neutrality, identifying Nucor Corporation as the best-positioned steel company to switch to 100 percent clean energy for its electricity.
Globally, the construction industry accounts for more than 50 percent of all steel produced. Nucor is the largest steel producer in the United States and calls itself "America's largest recycler," controlling approximately 29 percent of the U.S. steel market. The production method (Electric Arc Furnace or EAF) used by the company consumes massive amounts of electricity. Mighty Earth sees an opportunity for Nucor to transition to clean energy in the 25 states where it operates and is calling on major purchasers of Nucor steel in the construction industry to push the company to address the embodied carbon of its steel. However, Nucor has not yet made a commitment to reduce its greenhouse gas emissions or to transition its electricity consumption to clean energy.
"The steel sector is America's biggest clean energy opportunity," said Glenn Hurowitz. "But instead, its largest company, Nucor, is not only denying climate science but allowing a golden opportunity to pass it by."
In nearly every state where Nucor operates, there are clean energy procurement options available. Companies like GM, Apple, Facebook, Amazon and more than 100 others have already committed to sourcing 100 percent clean energy and are accelerating the greening of the grid.
— Solar Builder magazine
[source: https://solarbuildermag.com/news/renewable-energy-needs-steel-but-is-steel-green-new-report-calls-for-reduction-in-steel-industry-carbon-footprint/]