Lockheed Martin joined Florida Governor Rick Scott, Duke Energy President of Florida Utility Operations Alex Glenn and other local officials to celebrate the powering up of its 151,400-sq-ft solar array covering the parking lot at its facility near Clearwater, Fla. The project represents Florida's largest, private solar array.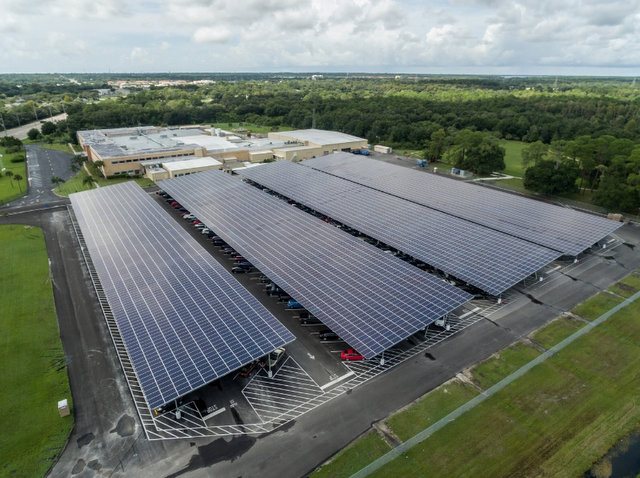 Lockheed Martin and lead contractor Advanced Green Technologies broke ground on the project in March 2015. Since then, 7,260 solar modules manufactured by Hanwha SolarOne Co. and inverters by SunGrow were networked to create the 2.25 megawatt solar carport. AGT designed and led construction for the project, which was completed and tested by September 2015.
RELATED: Check out the design of this cool carport install at a New Mexico golf club 
"This plant is indicative of Lockheed Martin's drive to be energy efficient and a responsible corporate citizen," said Leo Mackay, Lockheed Martin vice president of sustainability. "It is a building block in our larger effort to align our company with the demands of this century: global security; advanced infrastructure; and renewable energy."
The solar project will generate 3.33 million kWh per year resulting in $6.5 million in savings over 25 years. The covered parking will not only provide shade for more than 500 cars, but it will also slash greenhouse gas emissions by 35 percent.
RELATED: Solar carports will spread across the country as costs decline 
The Lockheed Martin location near Clearwater, Florida employs approximately 500 employees and 100 contractors providing engineering, software development and other services for company programs. Lockheed Martin is currently considering other Florida sites to construct an additional solar carport.
— Solar Builder magazine
[source: http://solarbuildermag.com/news/see-floridas-largest-private-solar-carport/]