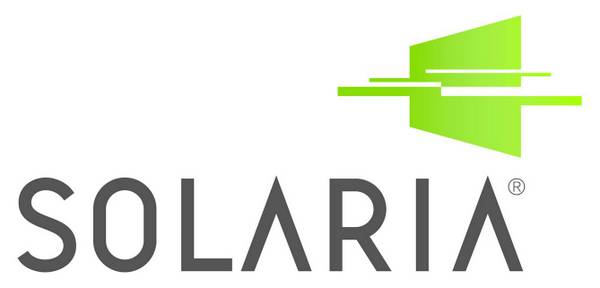 Soligent Distribution will begin introducing Solaria's PowerXT 350Wp modules, optimized for residential deployment, to its network of 5,000 solar installers in the U.S. and across 45 countries.
Invaleon Solar Technologies, a Soligent Dealer who has installed over 25 MW of solar projects in Massachusetts in the last year alone, will be the first to install the new Solaria 350W modules after several successful installs with Solaria 325W and 330W modules.
"Our customer demand for premium high density panels has been growing and options have been limited," said Sven Amirian, VP of Sales at Invaleon Solar. "Before Solaria, Invaleon used other manufacturers' modules, but they were less desirable black on white modules, and generally more expensive than Solaria's. The 25-year product warranty gives our customers peace of mind; while the true, all black module provides an elegant appearance without sacrificing production or performance. For Invaleon, Solaria 350 modules continue to present new possibilities for our business, extending Invaleon's product offering and shortening the customer payback time and increasing profitability."
How one PV module manufacturer wants to meet the needs of homeowners
Solaria PowerXT 350W modules build on the success of the Solaria PowerXT 325W and 330W which have been in high demand among Soligent installers. For Peggy Matson, owner of Auburn Solar, a certified Gold Soligent Elite Dealer operating Northeast of Sacramento, looks matter.
"Most of our customers want something on their roof that looks really sharp," she said. "Solaria is great looking, highly efficient, and priced right so we can offer very competitive deals to our customers – often beating our competitors by thousands of dollars."
"Solaria's PowerXT 350W panels ensure labor savings on racking and system components over other lower wattage modules," says Jonathan Doochin, CEO of Soligent. "Soligent, through our partnerships, is providing U.S. distributors, installers and customers with the most efficient, aesthetic and cost-effective solar products on the market today."
Solaria's high output PowerXT 350 modules –60 cell equivalent, with a black back sheet– are built on the company's proprietary technology, which utilizes advanced cell interconnect and module production processes. Through these patented technology / techniques, Solaria has created a new standard in PV module efficiency and reduction in system costs. PowerXT significantly boosts power generation while eliminating reliability challenges that can reduce conventional PV modules' long-term performance. This ensures that solar installers maximize power deployment on customer roofs – enabling them to install attractive, cost-effective distributed power plants that accelerate payback period and profitability.
— Solar Builder magazine