Some students in South Carolina may soon see solar panels on their school's rooftops thanks to a pilot program sponsored by Palmetto Clean Energy (PaCE), a South Carolina nonprofit that promotes renewable energy resources.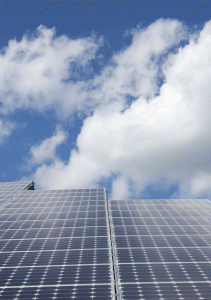 The Solar Matching Grant Pilot will target K-12 schools in South Carolina. The $250,000 program will cover 50 percent of a school's rooftop solar installation – up to $50,000. K-12 schools and not-for-profit 501(c)3 educational institutions in South Carolina are eligible.
"This is an important way we can expand the use of renewable energy technologies in our state for our nonprofit educational institutions," said Robert Long, chairman of the PaCE board of directors. "This program will give students a chance to see solar power at work."
The program is aimed at enabling more schools and educational institutions to take advantage of solar technologies by assisting with upfront costs involved with installation.
The pilot program is funded by a previously announced contribution by Duke Energy. The contribution was part of a settlement agreement reached with the Southern Alliance for Clean Energy (SACE) and the Coastal Conservation League (CCL) during the Duke Energy-Progress Energy merger.
"Many schools around the nation are using solar electricity for part of their electrical needs," said Clark Gillespy, Duke Energy's state president in South Carolina. "This program will not only help trim energy costs for school districts, but it will create educational opportunities around this renewable energy source for South Carolina students for years to come."
Requirements of the Solar Matching Grant Program are available at: http://www.palmettocleanenergy.org/renewable/solar_matching_guidelines.asp
Application forms are due Oct. 1, 2013. Awards will be announced Nov. 15, 2013.
Schools and other 501(c)3 educational institutions that have undergone energy audits and implemented energy efficiency savings programs are encouraged to apply.
— Solar Builder magazine
[source: http://www.solarbuildermag.com/news/south-carolina-pilot-solar-grant-program-introduced/]