H&H Solar completed two of their latest solar energy projects in Iowa. For both projects, H&H Solar provided the design, engineering, construction and final installation.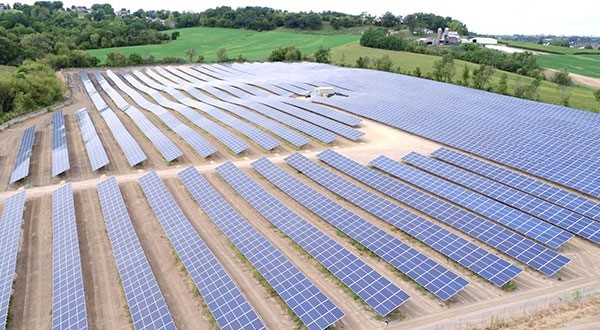 The West Dubuque project, now the largest and most powerful solar energy location in Iowa, is a 5 MWdc ground mount installation sitting on a 22 acre parcel utilizing AP-Alternatives Fixed Tilt Ground Mounted Racking, Canadian Solar Modules and Canadian Solar Inverters. In addition to the design, engineering and construction services provided by H&H Solar, the company also handled the procurement and permitting for the project. Because accessibility to the site was a challenge, the construction of 2,000 feet of service roads was required for a successful installation.
Officially named the Port of Dubuque Solar Garden, the second project's 1.2 MW capacity is located on a 5 acre parcel that was originally an industrial site which created a litany of problems and challenges.
According to Dave Garner, Project Developer for H&H Solar, "This was an extremely challenging project, not because of its scope, but because it was an industrial site located adjacent to downtown Dubuque. Thoughtful consideration by our engineers and designers was required to workaround factors of density, bike and pedestrian paths, and ornamental fencing, for instance, and these types of issues aren't necessarily what we deal with in many other solar projects we design and construct."
The Port of Dubuque Solar Garden features ground-mounted, fixed tilt ballasted racking from Solar Flex and Solar Modules and Inverters from Canadian Solar. The installation provides power to the grid at 13.8 kV and features a Learning Center that offers information about the site to the public.
Combined, these two projects are expected to power 850 homes from their 19,160 panels that rest on a total of 27 acres. These sites will be the catalyst for additional solar projects throughout Iowa which has traditionally relied on wind energy as their primary source for alternative energy.
— Solar Builder magazine