SolarBOS introduced the industry's first fused AC combiner for string inverter applications in September 2016. Since then, SolarBOS engineers and product managers have refined and improved the product offering, having supported solar projects combining as many as 36 string inverters with a single AC combiner. SolarBOS now says its AC Combiner line will complement all string inverter applications.
SolarBOS AC Combiner highlights
SolarBOS AC Combiners are easily customizable for wide range of projects. We have some info on it in our Jan/Feb issue, but there are 11 specs to note.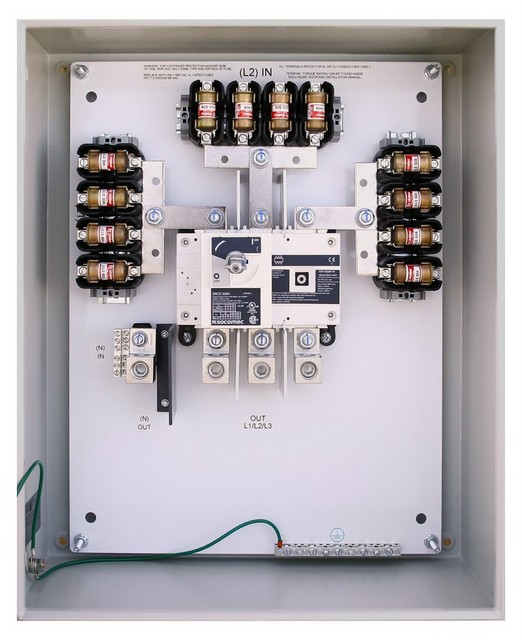 Bi-directional fuses. Fuses are bi-directional and can be back fed. Breaker panels are typically designed for load applications, when used "backwards" for supply equipment the breakers must be back feed capable.
Inverter isolation. Many string inverters include load break disconnecting means. This allows the use of non-load break fuseholders to isolate inverters and realize a significant cost savings.
Output Bussing. Custom output busses allow direct and convenient connection to transformers.
Outdoor rated NEMA-4 enclosures. SolarBOS AC Combiners can be mounted on their back reducing shading and racking requirements.
Interrupt rating. Fuses offer high interrupt rating as standard, commonly 200kAIC. Breaker cost increases drastically as interrupt ratings increase.
Supply vs load application. AC Combiners are designed specifically for supply as opposed to load applications. Breakers are good when there are variable loads (when you plug in a hair dryer and trip a breaker, the ease of resetting it very convenient). In solar applications, loads are not variable and sources are current limited.
Reduced PPE requirements. Current limiting fuses reduce arc flash energy by a factor of 5-10 and the level of PPE required for servicing.
Reduced Maintenance. Fuses do not require annual testing. Breakers require testing at regular intervals.
100% operation and reliability. Breakers degrade every time they trip or are used as a disconnect. Fuses do not.
OCPD coordination. OCPD coordination ensures the correct OCPD trips if an overcurrent event takes place. "Correct" refers to the OCPD most appropriate and closest to the fault. This is easily ensured with fuse coordination ratios. Breakers require a more complicated study. Trip curves are specific to each breaker model (as opposed to common across a fuse class) and complicate breaker replacement.
— Solar Builder magazine
[source: http://solarbuildermag.com/news/11-things-to-know-about-the-solarbos-ac-combiner/]