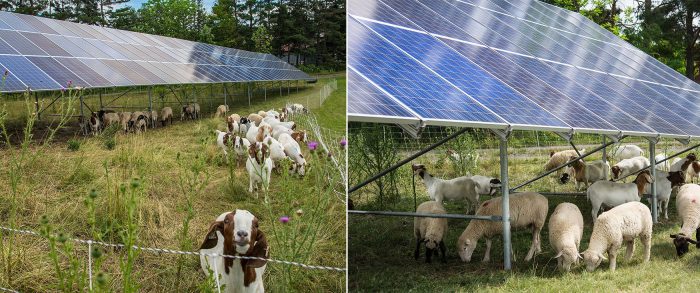 A new report by the New York Power Authority (NYPA) recommends proven and innovative approaches on integrating dual-land use for agriculture and solar energy production.
Developed in collaboration with independent, nonprofit energy research firm EPRI, "Agrivoltaic Leading Practices" determined that a best practice "agrivoltaic" site ideally involves stakeholder collaboration, community education, policy incentives, site safety practices and site-individualized crop selection and solar array design.
"With this report, the Power Authority has drafted a blueprint for sustainable land practices to help guide New York to a more resilient, carbon-free future," said NYPA acting president and CEO Justin E. Driscoll. "This agrivoltaic study provides significant insights for NYPA and New York State as we collaboratively work to meet our nation-leading climate and clean energy goals."
Agrivoltaics is the simultaneous use of land for typical agricultural practices and solar PV power generation. These systems are designed so that solar panels allow sufficient light to pass to ground crops while also capturing enough sunlight to generate electricity.
"Farmers have always been first and foremost stewards of the environment, taking great care, consideration and patience in tending to the land that produces their harvest," said New York State Agriculture Commissioner Richard A. Ball. "NYPA's work to research dual-land use for agriculture and solar energy production is an important step toward identifying successful outcomes that will balance our need for renewable energy, while sustaining our agricultural industry."
In March 2022, NYPA received a $102,000 grant to fund the report through the American Public Power Association's (APPA) Demonstration of Energy & Efficiency Developments (DEED) program. The program funds research, pilot projects and education to improve the operations and services of public power utilities. NYPA collaborated with EPRI to conduct research and publish the report.
Researchers who authored the new report examined how native vegetation, pollinators, low maintenance plants, agricultural crops and grazing livestock can coexist on the same parcel of land as a solar energy project.
The study determined that leading agrivoltaic practices are those that promote the following:
Collaboration between the farmer, solar developer and the power purchaser early in the site selection process to mitigate concerns and establish protocols for the development and management of the solar site that work for the farmer's needs.
Educational programming that fosters a two-way dialogue between farmers and solar developers to create a mutually beneficial site.
State-level incentive policies for co-location that makes site-selection more affordable for developers.
The development of solar site safety practices that compliment a partnering farmer's crop rotation schedule to ensure that they can access the site to tend to their crops or herd.
Continued research to identify site-specific crops and array design alterations to accommodate the selected crop where appropriate.
The research initiative is one of the NYPA's many innovative projects that support New York's goal to generate 70% of the state's electricity from renewables by 2030. The commitment includes the installation of 6 GW of solar power by 2025. New York is on target to meet that goal, and by annually installing more than 400 MW per year since 2018, it reached a combined total capacity of 3.3 GW of solar generation at the end of 2021.
"Understanding the nexus between food and energy through agrivoltaics aligns with EPRI's efforts to explore sustainable technology solutions that benefit communities and the environment," said David Porter, VP of electrification and sustainable energy strategy.
NYPA completed an agrivoltaic system comprised of 250 solar panels at the State University of New York (SUNY) College of Agriculture and Technology at Cobleskill in partnership with the college and the New York State Energy Research and Development Authority in 2015. The photo above is a picture of the SUNY Cobleskill system.
In addition to the NYPA's efforts in agrivoltaics, New York State has established the Farmland Protection Working Group (FPWG) and the Agricultural Technical Working Group (A-TWG). The working groups are designed to ensure solar siting that is responsive to the needs of New York's agricultural communities.
— Solar Builder magazine
[source: https://solarbuildermag.com/projects/agrivoltaic-study-sustainable-land-use-solar-projects-agriculture-sites-new-york/]