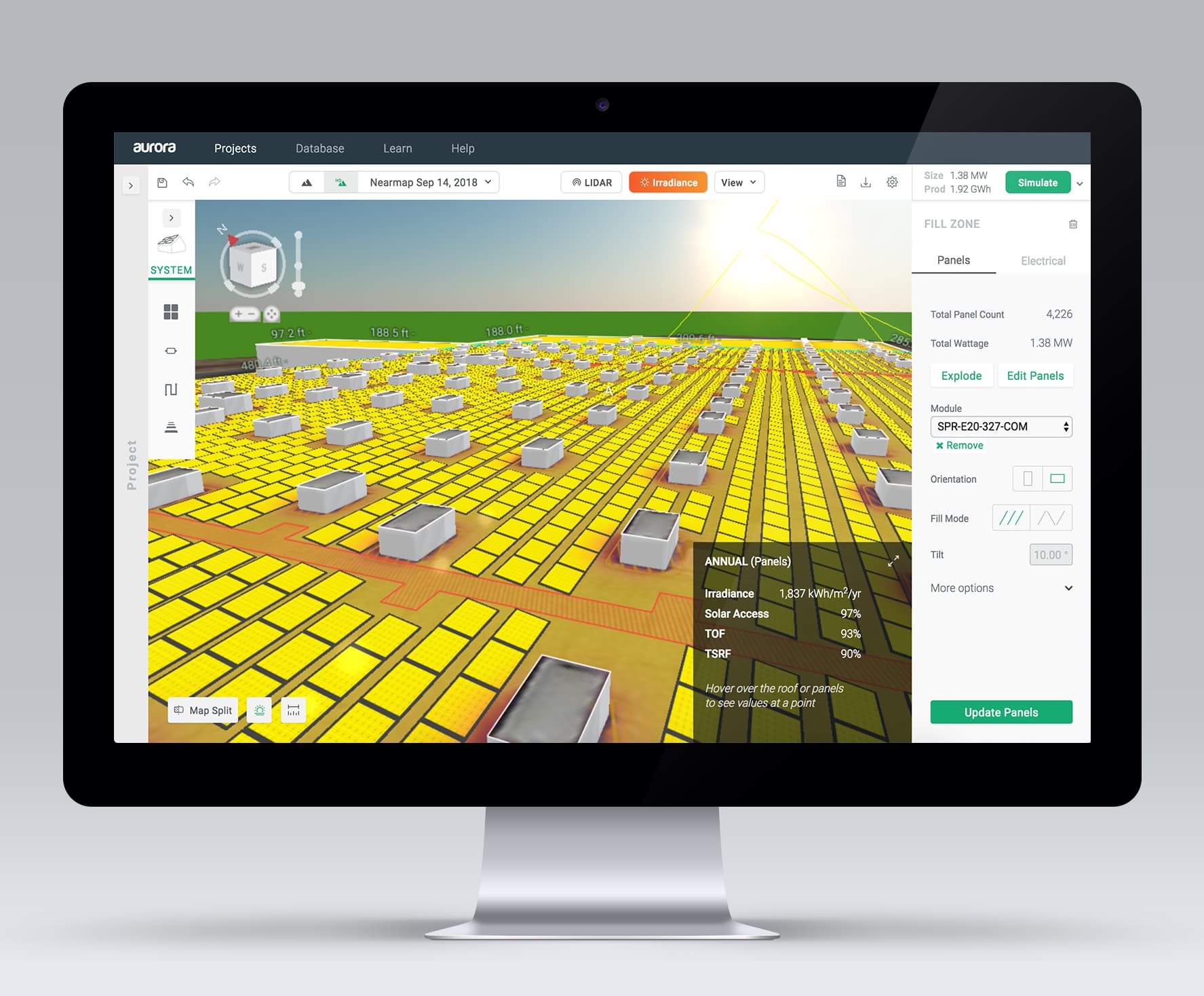 Aurora Solar, one of the top software platforms for distributed solar, will continue to add new product functionality and improve solar installation processes after raising $20 million in a Series A round, led by Energize Ventures. S28 Capital also joins existing investor, Pear, in the round. Amy Francetic, managing director of Energize Ventures, will join Aurora co-founders Christopher Hopper and Samuel Adeyemo and existing board member, Shvetank Jain, on Aurora's board.
"We see a tremendous market opportunity for software to drive efficiency across every aspect of the solar project lifecycle as the industry continues to grow, and Aurora is best-positioned to build it," said Francetic. "Aurora's LIDAR-enabled digital solution will be instrumental in making solar energy more affordable and reliable. In addition to capital, we look forward to bringing our energy industry network and experience in scaling industrial SaaS companies to help accelerate Aurora's growth."
As California and other states implement solar mandates, the tools used by utilities, developers and installers to design and sell solar systems must work quickly, and with pinpoint accuracy for both small residential and large commercial systems. Aurora is meeting this demand by incorporating LIDAR data, computer aided design technology and computer vision to help solar professionals remotely design solar projects. This allows Aurora clients to avoid one of the solar industry's most cumbersome points of contact – the site visit.
Don't miss our Solar Installer Issue in March — subscribe to Solar Builder magazine (print or digital) for FREE today
"With over $20Bn spent annually on solar in the US, and $200Bn globally, we wanted to invest in the company that is building the operating system of the solar industry," said Mar Hershenson, Managing Partner, Pear. Jain added "Solar is going to have a very meaningful impact on the energy infrastructure in the world in the near future. We had the privilege of being involved with Aurora Solar from day one and see it as the leading company in this space. Doubling down has been a no-brainer."
With $20 million of new capital, Aurora will expand its engineering, customer success and other business teams. "This funding will enable us to continue to attract the most talented engineers, marketers, customer success and salespeople to service the fastest growing occupation in the US – the solar professional," said Adeyemo.
More on Aurora
Aurora's world-class engineering team has developed its patented SmartRoof technology, which is the only solution in the market that allows solar professionals to create a highly accurate 3D CAD model of a site in just a few minutes. Using these models, Aurora can forecast how many solar panels will fit on a property, calculate how much energy they will produce, and predict how much money the installation would save a property owner. Aurora's technology enables shade reports that are equivalent to on-site measurements, and are accepted by all major rebate authorities such as NYSERDA, MASSCEC, Energy Trust of Oregon and the Connecticut Green Bank.
"We are thrilled to be partnering with Energize to bring the best-in-class sales and design platform to solar professionals in the US and all over the world. Transitioning to a world powered by sustainable energy is one the biggest challenges facing our generation and we are looking forward to enabling more solar installers to sell and install more solar," says Hopper.
— Solar Builder magazine
[source: https://solarbuildermag.com/news/aurora-solar-lands-20-million-in-series-a-funding-to-further-improve-solar-design-software/]