Solar Gain's Vice President of Commercial Operations Tim Graunke was looking for a new rooftop mounting solution at the 2016 Intersolar Conference in San Francisco.
"We were about two months away from starting a major project," Tim said.
In the weeks following InterSolar, Graunke worked with Roof Tech Sales Director Tim Vaughn to finalize a contract. By early September 2016, Solar Gain began using RT E Mount AIR to install an extensive 630-kW system at WorldMark Windsor Resort, a 10-acre vacation ownership property operated by Wyndham Worldwide Corporation in Sonoma County, California.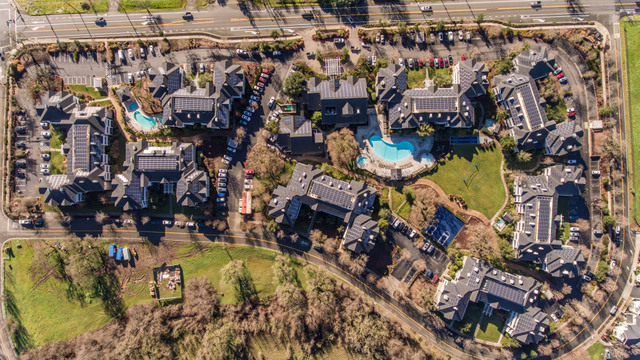 The project has nine three-story buildings housing its timeshare units, all with asphalt shingle roofing at varying angles, a fact that made it all the more obvious to choose a rail-less mounting solution.
Between September and late December, when the project was completed, Vaughn continued to be the main point person for Solar Gain, but Roof Tech's Business Development Manager, Milton Nogueira, also played a big role.
"Milton visited the Windsor project numerous times over those four months to provide us with on-site tech support and guidance," said Graunke. "All our questions were answered quickly, and overall we had a totally positive experience working with Roof Tech."
The system experienced a severe weather test early on. "When we began the project last September, California had been in a five-year drought," he explained, "but over the following months, Sonoma County was hit with record amounts of rainfall."
Graunke noted that previously, Solar Gain had always used flashing that slides between roof shingles. "That can sometimes compromise the integrity of the roof," he explained, "but we did our due diligence and felt confident that Roof Tech's butyl rubber flashing was the right way to go."
Solar Gain Project Manager Max Chellemi concurred. "Once you install RT E Mount AIR, it's completely watertight," he said. "There were times when those rooftops had to be left with only the mounting hardware and no PV panels, but we didn't have a single leak."
Mounting with butyl rubber: How Roof Tech gets a leak-proof seal
— Solar Builder magazine
[source: http://solarbuildermag.com/news/case-study-how-solar-gain-chose-the-rail-less-mounting-for-a-630-mw-commercial-project/]