The growth of electric vehicles (EVs) on the market has been accompanied by a wave of incentives to build out the EV charging infrastructure it will need. While most individual EV owners charge at home, there's an increasing need for commercial and industrial (C&I) sites to have EV charging, whether for their own fleets or as a benefit for visitors and employees.
Cue the companies simplifying EV charging deployment. Their offerings range from hardware that speeds installation to software platforms that take on tasks most developers don't do — and don't want to do — in-house. In recent conversations at RE+, Solar Builder looked at the EV charging challenge from a range of perspectives.
Outsourcing the learning curve
C&I developers know solar and storage, but adding EV charging to the slate of offerings requires much more than knowing how to install a charger. It requires a new level of customer interaction,Oone that may be better outsourced.
"The ongoing interaction with an EV charger is very different than it is with a solar system, which, if it's well designed and well implemented, needs very little ongoing interaction," says Ram Ambatipudi, SVP of energy and utilities with EV Connect. "Whereas with EV charging, it's almost flipped: Once that station is installed is when there's a lot of ongoing interaction, and then the operation and maintenance piece plays a really critical component."
Different doesn't mean bad, but it does mean you may need outside expertise and ongoing customer coddling.
EV Connect's platform manages the needs of all involved. "Our software solutions provide both driver-facing solutions — for drivers to find stations, initiate and pay for the charge, receive notifications — and services for the owner-operator and the site host," Ambatipudi says. The software's dashboard enables chargers to be monitored for availability, real-time usage and maintenance needs. "We can take all of the trouble tickets through our call center, and we alert the site host on the status of those and then work with O&M contractors as necessary to roll a truck out there to fix a problem."
Some potential customers — or site hosts, in EV charging lingo — will look like typical C&I solar and storage customers adding charging as a customer amenity or to charge their own fleet. Others want to make a business out of owning and operating a network or aim to electrify their fleet with charging both at depots and on the road. Given the range of needs, C&I installers should understand whether customers have more than one site and what their goal is.
EV Connect likes to get involved at the earliest stage of a project. Where existing electrical capacity falls short, which is most often the case, it can navigate utility incentives.
"A lot of utilities are rolling out infrastructure programs that cover some or all of the utility side upgrades, as well as the customer side upgrades that are needed to support these implementations," Ambatipudi says. The company helps identify programs, navigate the applications and ensure network software and hardware vendors are qualified.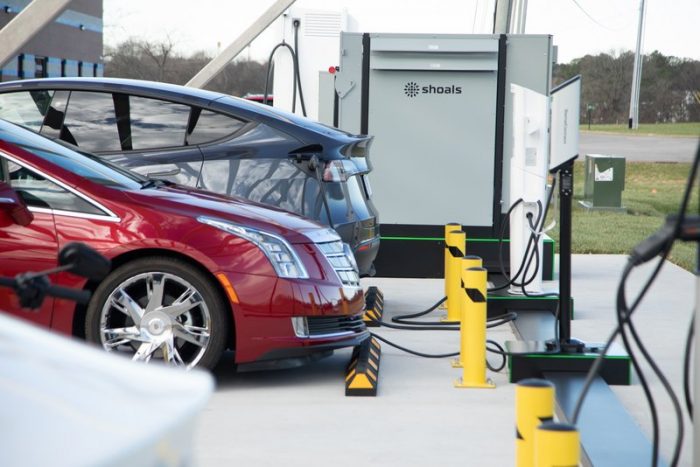 In June 2022, Schneider Electric acquired EV Connect, knowing the coming wave of EV charger deployments requires support that is as much digital as electric. EV Connect's software management platform is charger technology agnostic and has been certified with over 20 different charge station manufacturers.
Offering EV charger installation is an opportunity C&I developers should take advantage of, Ambatipudi says. "They already have the touch points with customers, they understand the infrastructure and the electrical characteristics of a site and they're seeing a wellspring of demand from their customers for implementing EV charging," he says. "They're in the right place at the right time, but they need expertise and support and services in order to deliver those solutions."
Energy storage + EV charging
Developers of C&I energy storage systems are already familiar with how software platforms can be used to harness a battery's capacity to lower utility bills.
With vehicle fleet electrification top of mind, Stem announced a partnership with InCharge Energy, bringing EV charging expertise to the table.
"We're coming at this from the charge load side, not the vehicle side," says Tad Glauthier, VP, market development at Stem. "Can we help manage the utility bill impact of EV charging? Can we use stationary storage co-located with EV charging to provide services to the grid and provide resilience for EV charging with our systems?"
Smart energy use will be imperative given demand growth, he says. "When we look at the load growth that's coming from EVs over the next 15 years or so, it's expected to be as much additional load on the U.S. grid as the entire commercial sector is today. That basically doubles our market."
Glauthier says Stem's enterprise customers, especially those with significant transportation logistics, are "almost universally thinking about their fleet electrification strategies."
"We're taking the Athena platform, the AI engine that is used for forecasting loads of different commercial building types, and we want to train it to forecast loads of EVs," says Glauthier. "A lot of the applications in the early stages here won't even require that kind of forecasting. That will be more necessary when utilization rates at charging stations are really high."
Adding meters to the mix
When it comes to a project with solar, storage and EV charging, C&I developers face a gnarly question: Should EV charging be metered separately from a solar + storage system? Liam Weaver, manager, solutions engineering at Enel North America, shows there's no one-size-fits-all answer.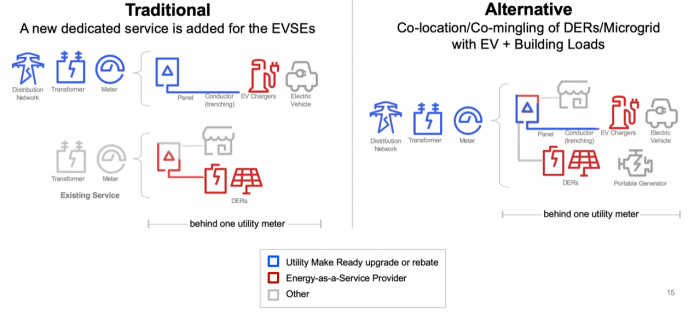 The customer's use case will shape the scenario modeling and determine whether one meter or two is optimal. For example, the profile of a public EV charging site will differ from that of a company with a fleet of vehicles doing daytime deliveries, or that of a transit hub where buses recharge between runs. Some use cases are more straightforward. "The fleet use case is pretty clear: a significant amount of EV demand on some kind of charging schedule to where a fleet operator generally knows when they need to charge and how," Weaver notes in a presentation at RE+.
The use case gets layered with the various utility tariffs for solar and for EV charging. Systems with bidirectional charging and the potential for vehicle-to-grid ancillary services add to what's already a complex matrix of possibilities.
Working through an example in California that had "three tariffs, two metering structures, a plethora of different system sizes" creating "potentially hundreds of different scenarios to run," Weaver shows that separate metering did not make sense in that case, sharing a typical day's use (see graph). "A lot of the work was playing out all those different scenarios to figure out which one is best."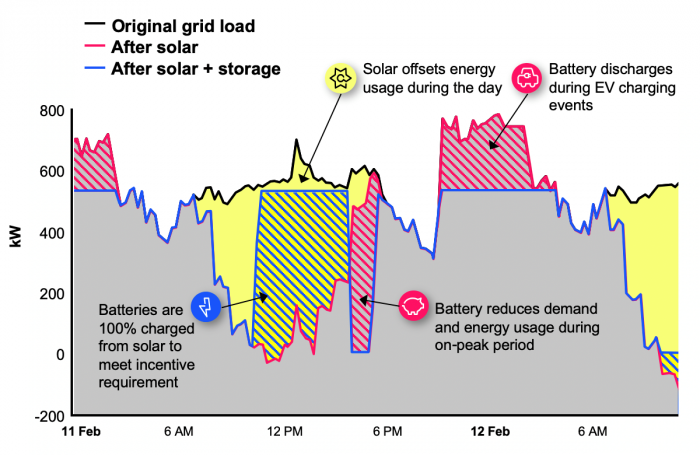 "It can get pretty complex," Weaver says, however projects should start with "having that consultative conversation of what are the electrification goals."
Keeping installs above board
Like solar, EV charging project economics are significantly impacted by labor costs. Shoals is driving down the labor requirements by providing surface-mounted balance of systems and leveraging tried-and-true assemblies and connectors familiar to solar installers.
Its products include above-ground Big Lead Assemblies, walk-over and drive-over raceways and charger-agnostic bases or pedestals for units from any of EV charging company.
The system is complemented by prefabricated plug-and-play transformer and distribution panel skids, and the whole system cuts deployment at a typical site from multiple weeks to one to three days, Shoals notes.
Surface-mounting not only lowers installation time, it lowers the risk. Site hosts such as shopping centers or commercial buildings are new to having EV charging, and above-ground systems enable relocation if the system's location can be improved.
Think out of the box and off the grid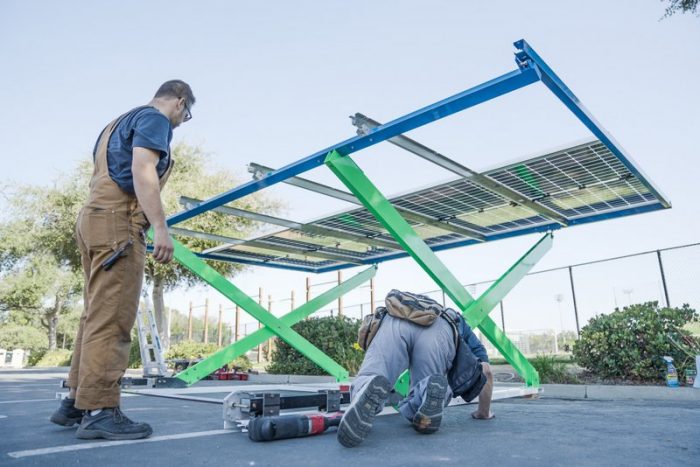 Parking lots are a logical place for solar installations, yet canopies are the exception, not the rule. Tom McCalmont, CEO of Paired Power, says there have been few innovations addressing their high price, which is due to challenges with permitting, installing and interconnecting.
"Costs have come down dramatically in the last 10 years for most types of solar, but carports and canopies really haven't changed much," McCalmont says. "We had one project. It took four years. Three and a half years to get a permit and then half a year to build it."
McCalmont used some down time in the early days of the pandemic to tackle the challenge. The first issues were structural. He cites two reasons why it takes so long to construct a solar canopy: the sheer bulk of foundations, some of which are 14 ft deep, and the fact that most work happens in the air once the structure is built.
His solution, the recently-launched PairTree, solves the structural issues with on-surface footing that self-ballasts a canopy. The structure starts with squat, X-shaped sides so that workers can install all of the modules while standing on the ground. Once it's ready to deploy, the sides crank up to a tall X, raising the canopy to full height.
With no surface penetrations, no components heavier than OSHA two-person limits and no need for ladders or bucket trucks, construction takes two people around half a day, McCalmont says.
The structure's feet are the width of a standard parking space apart, while the canopy extends a half-space on either side, enabling a continuous canopy if installed on every second parking space.
The other two issues with canopy construction — slow permitting and interconnection delays — are solved by making the PairTree islandable. The attached battery box fits up to a 40-kWh battery, one or two Level 2 chargers, and a bidirectional inverter, enabling off-grid operation from day one. It can be connected later, if needed. Cellular connectivity enables upgrades to be pushed out and monitoring to be done remotely.
McCalmont sees the potential markets spanning from C&I parking lots to multi-family units to off-grid locations where a limited amount of charging could be an amenity, such as beaches and campsites. The 75 miles of charge delivered by 5 kW of bifacial modules on each PairTree meet more than twice a typical driver's 30-miles-a-day needs, though it will probably need to be grid-tied to meet public charging demands.
For homeowners seeking resilience, living off-grid or facing high electricity prices, its price tag may not be a deterrent, especially given its bidirectional charging.
"You could use the power source for emergency power. It doesn't necessarily have to be used only for EV charging," McCalmont says.
As someone who started on the installation side of the business, McCalmont recognizes the need to make it attractive to installers. "We've developed it with enough margin in the product that we can discount it to [installers and developers], and then they can install it for our customers."
The units are currently rated for 100 mph winds, with plans to increase to 120 and 130 mph ratings to meet demand in markets such as Florida. Paired Power is currently taking orders with delivery starting Q2 2023.
Charging forward: last thoughts
EV charging is soon going to be part of any integrated energy system, but like batteries five years ago, it takes a while to figure out how to integrate them into your offerings, hand off the not-really-my-job tasks and install like a boss. For C&I developers, it's a much more nuanced addition than for residential installers. The good news is that there are a slew of new offerings — hardware and services — that will help you ease into it.
---
Dej Knuckey is a contributor to Solar Builder. She's a journalist, author and freelance writer who has covered energy for publications in Australia and the United States.
— Solar Builder magazine
[source: https://solarbuildermag.com/news/charging-into-ci-new-tech-and-services-ease-the-addition-of-ev-charging-with-solar-storage/]