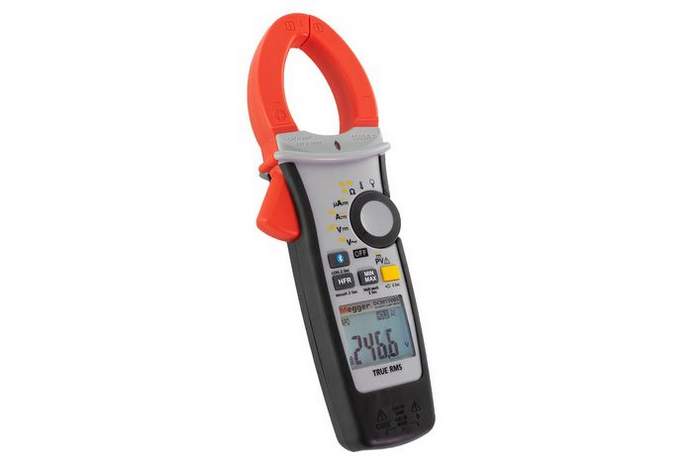 Megger now offers a solar clamp meter that can measure up to 2,000 V DC and 1,500 V AC (using PVHV leads) during installation, maintenance, monitoring and testing of photovoltaic systems and standard AC or DC electrical equipment. The DCM1500S can also measure AC and DC current up to 1,500 A and offers a true RMS reading on the AC range for greater measurement accuracy.
IF YOU CAN MEASURE IT, YOU CAN IMPROVE IT
Click here to learn how to create new revenue streams from your O&M operations with the Mana Monitoring Platform.
Designed to be used on electrical systems and equipment, including solar/photovoltaic installations where there is a need to measure current, volts, resistance and frequency, this clamp meter is also excellent for fault-finding.
The DCM1500S comes standard with 4mm leads, as well as the new PVHV1 (4mm) and PVHV2 with MC4PV plugs HV lead sets. These leads allow the technician to attach directly to the solar array connectors and junction box where all the panels are spliced, creating a faster and more convenient termination and test.
Technical Highlights
Measures AC and DC current up to 1,500 A
Measures up to 2000 V DC
True RMS reading
Free Megger Link App
The unit features a large, LED clear backlit display and a light in the clamp jaw that automatically turns on when working in poorly lit areas. There is a tactile barrier below the jaw that ensures a safe working distance for the operator's hand when measuring live current on uninsulated conductors.
This solar clamp meter includes a high frequency rejection filter, inrush current measurement, internal data logging, a non-contact volt seek mode and manual DC Amp zeroing. The DCM1500S not only measures voltage and current, but it also measures resistance, diode, capacitance, temperature and frequency.
The DCM1500S has a smart data-hold that expands the unit's standard hold function by giving the operator an audible warning if the 'held' reading increases by 50 counts or more. A min/max function on the unit automatically stores the lowest and highest readings taken.
Applications: When using the DC current measurement, this solar clamp meter can be used in a variety of applications, including battery monitoring, automotive, charging and load circuits, electric vehicle servicing, lift maintenance, UPS commissioning, servicing and maintenance, electro-plating plants and welding equipment servicing, as well as domestic power generation from solar panels and wind turbines.
The free Megger Link App is available for use with this meter. The measurement value obtained by the clamp meter can be remotely monitored on a smart device using the unit's built-in Bluetooth, giving a live trend graph and the ability to sample and log values to be analyzed later.
The DCM1500S is safety rated to IEC 61010-1 and IEC/EN61010-2-033, CAT IV 600 V and CAT III 1000 V.
— Solar Builder magazine
[source: https://solarbuildermag.com/products/check-out-meggers-new-solar-clamp-meter-measures-up-to-2000-vdc/]