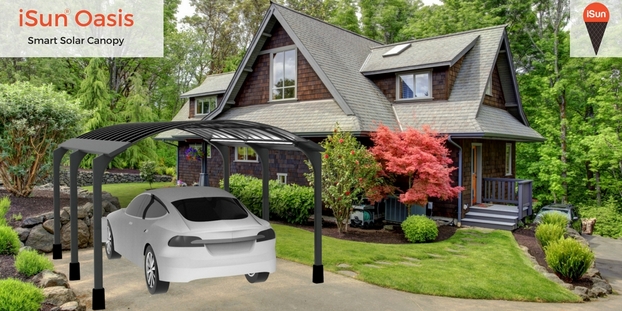 At the New England Home Show in Boston, solar energy and electric vehicle (EV) technology startup Renewz launched an online ordering campaign for the iSun Oasis, a smart solar canopy that easily integrates into homeowners' lifestyle and garden, patio or driveway. It is part of the iSun Energy brand, and is now available for the price of $9,999 USD less a limited offer $2,500 discount.
How it works
iSun Oasis connects directly to the home's electrical grid. The durable, aluminum structure holds an American solar panel array which captures and delivers clean power, reducing the homeowner's carbon footprint by approximately 1.4 metric tons of carbon emissions per year. Users will also see reductions to their energy bills, and may be eligible for further rebates and tax breaks in their state or province. In the US, Americans will receive a 30% federal tax credit in the first year after installation. In many cases, the entire purchase and installation of the canopy can be financed by energy savings, as well as an increase to home value when it comes time to sell.
The canopy extends the use of outdoor areas by protecting from heat, rain, snow and UV whether on driveway, patio or garden. iSun Oasis is controlled and monitored via the iSun mobile app, which will be consistently updated with new features such as Electric Vehicle charge control, smart lighting and more. The canopy's functionality can be expanded with accessories like an EV charger, smart lighting, electrical outlets, bluetooth speakers, plant holders and bug nets.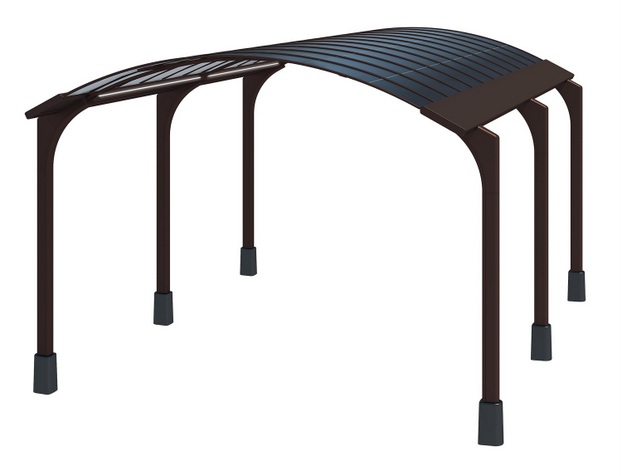 "One of our main goals in the design of our canopy was for it to integrate and improve users' home lifestyle, in a seamless and cost effective manner," says CEO Sass M. Peress. "We designed the iSun Oasis so that it would be simple to install, and easy to obtain an installation city permit, since it is considered a temporary structure due to its innovative anchoring system. Its access to a host of incentives plus energy payback and increased home value make it a smart financial decision as well."
iSun Oasis works under all kinds of daylight conditions and features high efficiency, curved solar panels designed to optimize energy generation. While maximum power is obtained from direct sunlight, the canopy's unique solar technology creates energy even through diffuse light or cloudy conditions. It is capable of producing power even when buried under four inches of snow.
The 'Carportunity': How our electric vehicle future means big things for solar carports
— Solar Builder magazine
[source: https://solarbuildermag.com/news/check-out-this-simple-new-solar-canopy-from-startup-renewz/]