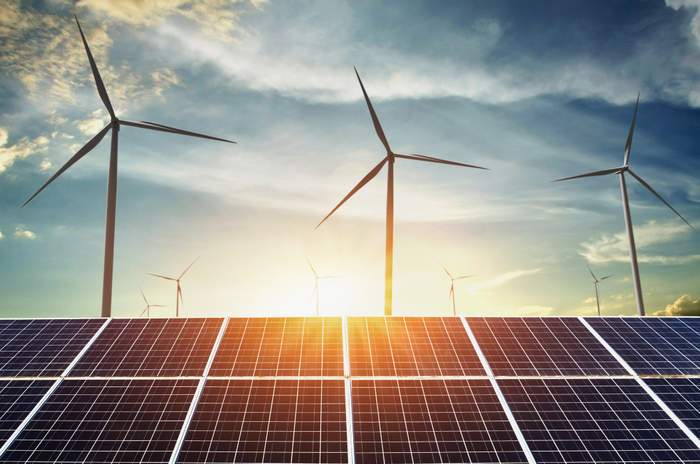 Corporations purchased a record of 23.7GW of clean energy in 2020, up from 20.1GW in 2019 and 13.6GW in 2018, according to new research published by BloombergNEF (BNEF). The increase came despite a year devastated by the Covid-19 pandemic, a global recession and uncertainty about U.S. energy policy ahead of the presidential election.
BNEF finds in its 1H 2021 Corporate Energy Market Outlook that clean energy contracts were signed by more than 130 companies in sectors ranging from oil & gas to big tech. Underpinning the market is surging stakeholder interest in corporate sustainability and expanding access to clean energy globally.
"Corporations faced a wave of adversity in 2020 – internal corporate functions were disrupted on the outset of the pandemic, and many companies saw revenues plummet as global economies buckled," commented Kyle Harrison, BNEF senior associate and the lead author of the report. "Question marks before – and after – the U.S. election further complicated long-term decision-making for companies. To not only maintain, but grow, the clean energy procurement market under these conditions is a testament to how high sustainability is on many corporations' agendas."
The U.S. was once again the largest market, but was less dominant than in previous years. Companies announced 11.9GW of corporate PPAs in the U.S. in 2020, down from 14.1GW in 2019 – the first year-on-year drop since 2016. The first half, coinciding with the start of the pandemic, was particularly subdued, with companies announcing just 4.3GW of corporate PPAs in the U.S. in that period.
It's cool, but not enough, at least if you ask America's largest energy customers.
High-profile brands from Amazon and Facebook to General Motors and McDonald's, signed a statement this week calling on the federal government to implement strong and specific national policies to accelerate the transition to a zero-carbon power sector and expand access to clean energy for customers. These companies represent more than $5.8 trillion in revenue and 13.5+ million employees from across diverse sectors of the U.S. economy.
"Clean energy presents an unprecedented opportunity to recover after the triple whammy of 2020: pandemic-induced recession, climate calamities, and racial reckoning," said Miranda Ballentine, CEO of the Renewable Energy Buyers Alliance (REBA), a member-based organization that represents and advocates on behalf of many of America's largest energy buyers. "Policies like those outlined today can revitalize the economy, grow high-wage jobs and create the electricity system of the future. As the newly inaugurated Biden Administration looks to take immediate steps to rebuild the economy and tackle the climate crisis, these iconic businesses stand ready to work together to make a zero-carbon power vision a reality."
Deep cycle lead-acid batteries are the most-recycled consumer product in North America. Delivering proven performance, flooded models continue to be the most affordable energy storage solutions for residential off-grid & backup systems. Browse the Rolls catalog here.
The Energy Buyer Federal Clean Energy Policy statement, organized by the REBA, emphasizes the need for ambitious national policies that modernize the power grid and ensure it is resilient, affordable, customer-focused, and most importantly, carbon-free. Their letter asks the Biden administration to:
1. Leverage organized wholesale electricity markets for grid decarbonization by improving existing wholesale markets and expanding wholesale markets to achieve least-cost, efficient clean energy deployment.
2. Decarbonize the grid for all through swift federal government action to harmonize and update the current patchwork of clean energy policies.
3. Support innovation to advance a resilient, affordable, clean energy system by substantially increasing federal funding for clean energy technology research, development and demonstration.
American businesses have signed nearly 30 GW of new, large-scale renewable energy contracts since 2014. In 2019, announced deals, totaling 9.4 GW, were the equivalent of 80 percent of total renewable energy capacity installed in the U.S., with soon-to-be-announced 2020 year-end numbers showcasing growth in the market despite challenges felt across the industry due to the pandemic. More than 250 global businesses have committed to using 100 percent renewable energy, and Fortune 1000 companies may represent as much as 85 GW of renewable energy demand through 2030.
"Walmart is on a path to become a regenerative company through our initiatives including targeting zero-carbon emissions across our operations without the use of carbon offsets by 2040," said Steve Chriss, Director of Energy Services at Walmart. "Clean energy resources are critical to reaching that goal, and we have set a goal to be powered 100 percent by renewable energy globally by 2035. The federal policies put forth by REBA will enable growth in renewable energy and progression to a decarbonized power grid while maintaining affordability and resilience for all American consumers."
The statement's signatories include:
• Adobe
• Amazon
• American Honda Motor Co., Inc.
• Ardagh Group
• Atlassian
• Cargill
• Danone North America
• DSM North America
• Equinix, Inc.
• Facebook
• General Motors
• Google
• H&M
• Johnson & Johnson
• LafargeHolcim
• McDonald's Corporation
• Micron Technology, Inc.
• Microsoft
• Nestlé
• Novozymes
• PepsiCo
• QTS Data Centers
• Ralph Lauren Corporation
• Renewable Energy Buyers Alliance
• Sabey Data Centers
• Saint-Gobain North America
• Salesforce
• Target
• The Clorox Company
• The Walt Disney Company
• Unilever, United States
• VMware
• Walmart Inc.
• WeWork
• Workday
• Yum! Brands, Inc.
— Solar Builder magazine
[source: https://solarbuildermag.com/policy/corporations-are-buying-into-solar-energy-and-are-calling-on-the-federal-government-to-do-more/]