Energy storage demand has nearly tripled since 2020, and supplier Crown Battery projects record growth as the world decarbonizes and stores more renewable energy.
"What most battery users don't see is all the upstream waste – and millions of batteries destined for the garbage dump," says John Connell, Vice President of Crown Battery's SLI Products Group. "Some batteries are touted as 'green' but start with newly mined raw materials and are landfilled 95% of the time."
In sharp contrast, lead-acid batteries, like Crown's are 99% recycled — more than an aluminum can, according to EPA stats. In comparison, just 5% of lithium-ion batteries are recycled; the rest are landfilled.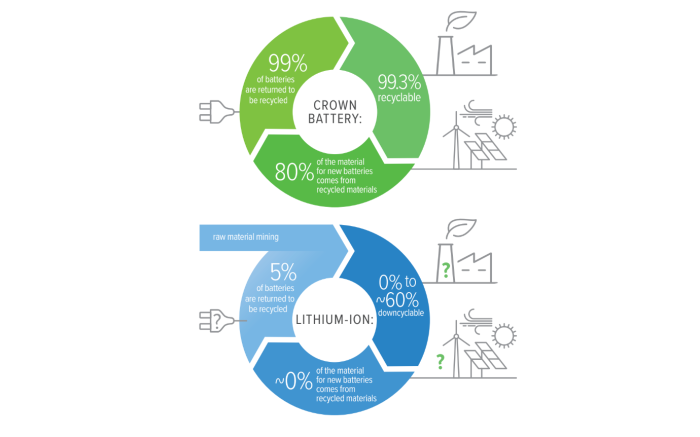 "All battery makers have an environmental and ethical duty to close the 'Recycling Gap' and ensure universal battery recycling," says Connell. "Recycling protects natural resources, creates good jobs, and turns old batteries into new ones."
But Connell says Crown wants to go further than achieving 99% battery recycling, toward "zero waste." This means building batteries better with fewer resources. That's why Crown Battery has implemented a 5-Year Near-Zero-Waste Initiative.
To that end, last year, Crown Battery switched to 100% renewable energy to power its manufacturing – and became the first-ever battery company recognized as a U.S. Environmental Protection Agency (EPA) Green Power Partner.
Crown Battery's 5-Year Zero-Waste goals include:
Increase previously-recycled materials use from 80% to 85+%
Decrease water usage by exceeding the current 51% water reuse rate (in 2020, Crown filtered and recycled 1,441,790 gallons of wastewater using a 19-step filtration process)
Continue collaborations with government laboratories, private companies, and leading universities to lower battery waste and enhance lifespan and performance
Expand 100% renewable energy beyond the headquarters and manufacturing plant – to lower CO2 emissions
Support strong policies for universal, complete battery recycling
Help suppliers reduce waste by an additional 20%
"Reducing waste conserves nonrenewable resources – and ensures we and future generations can enjoy fresh air, clean drinking water, and a high quality of life," says Hal Hawk, President of Crown Battery. "We've invested heavily above and beyond recycling – to do more with less impact, and ensure no battery is left behind."
— Solar Builder magazine
[source: https://solarbuildermag.com/batteries/crown-battery-outlines-near-zero-waste-goals-for-lead-acid-batteries/]