HelioPower sent word that it has installed Sharp's SmartStorage behind-the-meter energy storage solution at the Southern California manufacturing and distribution facility of Blisterpak, Inc., a manufacturer of thermoformed packaging and distributor of heat sealing machines. The 120-kW storage system is coupled with Blisterpak's recently installed 135-kW solar PV installation and the PredictEnergy Commercial Energy Management System. The SmartStorage system is designed to help Blisterpak cut expensive demand charges on its utility bills, and the company expects about $42,000 per year in total estimated utility savings.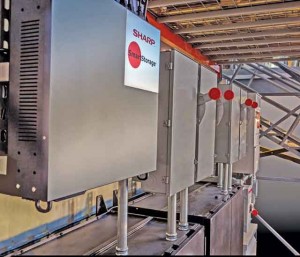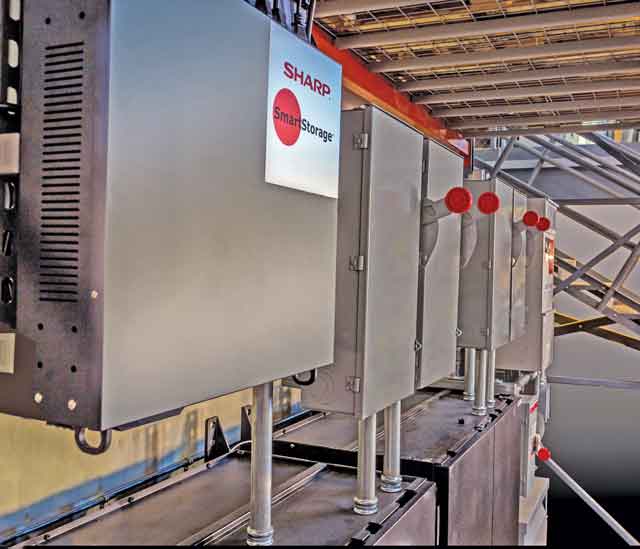 Peak demand charges are the fastest growing part of utility bills for many commercial and industrial customers and can represent up to 50 percent of a company's monthly utility bill. The site is Blisterpak's manufacturing and distribution facility located in Southern California Edison's (SCE) utility territory, an area of the country suffering from peak demand charges as high as $35/kW. Solar PV offsets energy charges but not demand charges. By combining the SmartStorage system with solar PV, businesses save on both energy and demand.
RELATED: How energy storage helps solar's long-term value problem 
"We selected the Sharp system because of the company's long-standing reputation for delivering safe, high-quality and reliable electronic products. Moreover, their system offered an incomparable assurance of long-term service and guaranteed performance with their 10-year asset management service and performance guarantee," said Mo Rousso, President of HelioPower. "It's a system that requires almost no oversight on Blisterpak's part to deliver a high level of savings."
The SmartStorage system employs sophisticated, predictive analytics and controls to manage the release of energy from the battery. As Blisterpak's demand starts to spike, a rapid power discharge is triggered to mitigate spikes in demand usage. Blisterpak's SmartStorage system installation is backed by Sharp's innovative 10-year Asset Management Service Agreement, which provides routine and unscheduled maintenance, coupled with a 10-year demand reduction performance guarantee. If guaranteed demand reductions are not met, Sharp will compensate for the deficit in promised peak demand reductions.
"Our system would benefit many commercial and industrial buildings in the SCE territory," said Carl Mansfield, General Manager and Founder of Sharp Electronics Corporation's Energy Systems and Services Group. "HelioPower is helping its customers, like Blisterpak, take control of their expensive utility bills by installing the SmartStorage® system and we are pleased to provide them with a solution that reliably and safely delivers results."
— Solar Builder magazine
[source: http://solarbuildermag.com/news/sharp-behind-the-meter-solarstorage-system-installed-by-heliopower/]