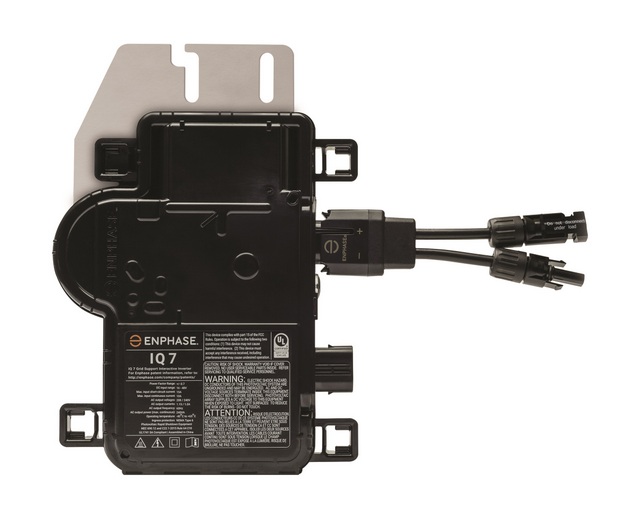 Enphase Energy came out with its seventh-generation Enphase IQ microinverters to complement its Home Energy Solution this week. The Enphase IQ 7 Micro and Enphase IQ 7+ Micro have already started shipping to distributors in the United States.
What's new in Gen 7?
Seventh-generation IQ icroinverters are powered by Enphase's software-defined architecture which results in an efficient design, and a single hardware SKU worldwide. Enphase says its IQ 7 family of microinverters produce 4 percent more power, and are 19 percent lighter and 17 percent smaller than the IQ 6 family of microinverters. The new IQ microinverters offer the same ease of installation with two-wire cabling, and leverages semiconductor integration for higher reliability and better economies of scale.
The 250 W AC Enphase IQ 7 Micro and the 295 W AC Enphase IQ 7+ Micro will be followed by a new, high-power 320 W AC variant, the Enphase IQ 7X Micro, to address 96-cell modules. Enphase IQ 7X Micros are expected to be introduced in the second quarter of 2018.
"With the IQ 7 family of microinverters, we continue to deliver on our vision of innovation and high quality," said Badri Kothandaraman, president and CEO of Enphase Energy. "This in-line upgrade to the IQ family of microinverters represents another milestone in our mission to reduce manufacturing costs, and reach our 30% gross margin, 20% OPEX, and 10% operating income (30/20/10) target operating model by the fourth quarter of 2018."
— Solar Builder magazine
[source: http://solarbuildermag.com/news/enphase-energy-debuts-seventh-generation-iq-solar-microinverter/]