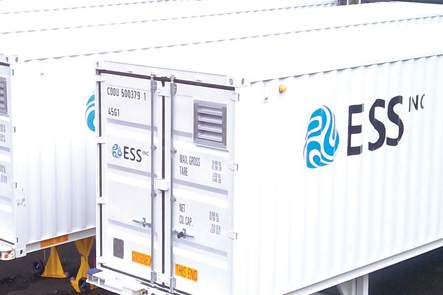 ESS Inc., a manufacturer of long-duration energy storage systems, has deployed its Energy Warehouse (EW) long-duration flow battery system at Marine Corps Base Camp Pendleton in San Diego. The 50 kW / 400 kWh battery is integrated into a microgrid with a CleanSpark microgrid controller, and the system is designed to provide:
Up to eight hours of storage to enable back-up capabilities for critical loads;
Operational energy cost savings through on-site generation with storage; and
Full islanding capabilities for resilience.
The project is being completed in partnership with the project's prime contractor, Bethel-Webcor JV.
"We are proud to partner with ESS Inc. for the Camp Pendleton project, as it marks the first-ever deployment of a solar-plus-storage system utilizing an iron flow battery," said Anthony Vastola, SVP of Projects for CleanSpark. "The solution operates in off-grid mode by default so as to maximize efficiency, utilize solar over-generation and extend the overall life of the system. As a whole, we expect the microgrid will provide energy and cost-savings, as well as improved energy security, to Camp Pendleton for years to come."
— Solar Builder magazine
[source: https://solarbuildermag.com/news/ess-cleanspark-team-up-for-first-ever-solar-storage-microgrid-with-an-iron-flow-battery/]