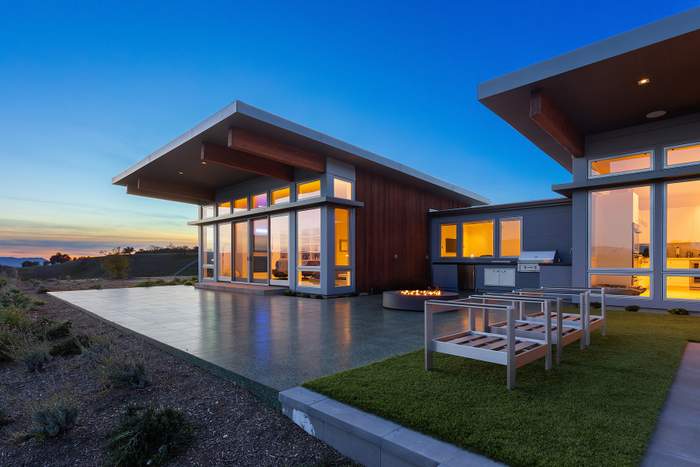 Stillwater Dwellings and Exponent Solar Energy have come together to now offer a fully integrated Green Energy Management Solution (GEMS) as a core part of Stillwater Dwellings' home designs. Clients of Stillwater Dwellings can intelligently integrate solar energy management solutions at the very beginning stages of home design and planning. Not only will this allow the aesthetics of the home to remain elegant, this green energy solution will be optimized to take full advantage of the home's site specifications and provide the most efficient solar solution designed for the occupants' lifestyle. This also serves as a simple solution to the California 2020 solar mandate which requires all new homes to be, in some measure, powered by solar.
By planning a comprehensive energy solution at the beginning stages of a home design, Stillwater Dwellings and Exponent Solar Energy are able to offer a seamless and efficient integration in lieu of a less effective, potentially awkward retroactive solar solution.
"We are constantly seeking new ways to bring innovative, green energy solutions to our customers. Our partnership with Exponent Solar Energy allows us to build on our already sustainable home designs by offering customized solar energy solutions for each homeowner," Kaveh Khatibloo, Co-CEO, Stillwater Dwellings.
Don't miss our Solar Installer Issue in March — subscribe to Solar Builder magazine (print or digital) for FREE today
"We are very excited about our partnership with Stillwater Dwellings. Our premium product and service offering aligns with the exceptionally beautiful and stylish homes that Stillwater designs and builds. We believe that our unique and integrated approach fills a void in the home design and construction industry. We look forward to bringing value-added clean energy products and aesthetically complementary solutions to discerning Stillwater clients and homeowners," Dan Thomas-Grant CEO, Exponent Solar Energy.
Exponent Solar Energy was founded in 2018 after one of its founders, who lost his home to a wildfire in 2017, discovered first hand that most regional and custom home builders across the U.S. are unable to offer solar or energy storage systems as part of their new home construction package. The company partners with boutique, custom, prefabricated and regional home builders to design and integrate comprehensive Solar Energy Management System into the construction of their client's new homes.
Stillwater Dwellings was founded in 2008 and has since established itself as a premier brand in the luxury prefab industry. Based in Seattle, Co-CEOs, Kaveh Khatibloo and John Morgan have built a talented team of architects, project managers and design professionals that has enabled Stillwater Dwellings to stay ahead of the growing demand for luxury prefabricated homes. In addition, Stillwater Dwellings has been a key player in helping wildfire ravaged communities in California rebuild their homes.
— Solar Builder magazine
[source: https://solarbuildermag.com/news/exponent-solar-energy-works-with-stillwater-dwellings-on-energy-management-system-for-its-prefab-homes/]