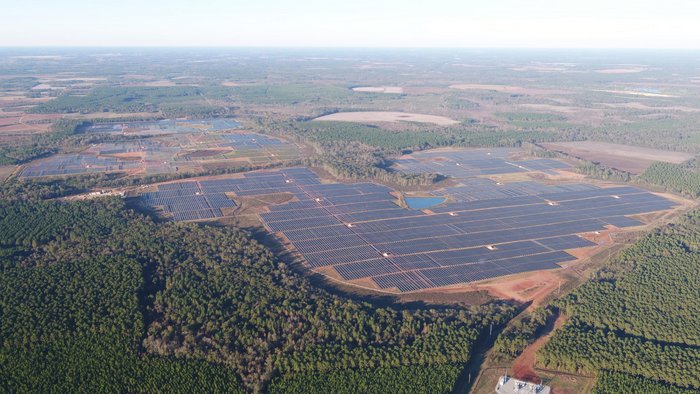 Facebook's first solar project in the state of Georgia, the Bancroft Station Solar Farm, was officially commissioned of on December 12. Module provider Q CELLS joined Facebook, Walton Electric Membership Corporation (EMC), Silicon Ranch, and state and local representatives to "flip the switch" on the 102.5 megawatt (MWAC) solar facility in a special ceremony at the project site.
Facebook chose Walton EMC as the power supplier for its data center in Newton County when it announced the facility in March 2018. As part of its agreement to supply 100 percent renewable energy for the center, Walton EMC announced a contract in December 2018 with Silicon Ranch, the U.S. solar platform for Shell and one of the nation's largest independent solar power producers.
Project details
The resulting solar project has yielded tangible economic benefits across the state. To support Facebook's data center and corresponding investments in Newton County, Silicon Ranch employed more than 675 people in Early County over the past ten months to assemble and install single-axis trackers that utilize NextTracker's TrueCapture smart control system, enabling more than 350,000 Q.PEAK DUO L-G5.2 solar modules to track the sun from east to west across more than 1,200 acres. The locally-sourced modules were among the first produced by Q CELLS at its manufacturing facility in Whitfield County, which is the largest of its kind in the Western Hemisphere.
"This project is representative of the cooperative approach to economic development across our state that has made Georgia a leader in innovative fields like solar energy," said Governor Brian P. Kemp. "The world-class solar modules manufactured by Q CELLS in northeast Georgia and installed at Silicon Ranch's solar field in Early County are paving the way for leading companies with a focus on sustainability – like Facebook – to find a home in Georgia. That cooperation, facilitated by our outstanding local economic development partners like Walton EMC, is a large part of what has earned Georgia the title of No. 1 State for Business for seven consecutive years, and I am excited for the future of the solar energy industry in our state."
Q CELLS CEO Hee Cheul (Charles) Kim remarked: "Celebration of this new facility coincides with the celebration of Q CELLS' 20th anniversary, a timely reminder of how Q CELLS strives to provide U.S. customers with high-performance modules, while leaving a positive impact on the economy of Georgia. Q CELLS commends Facebook for its dedication to renewable energy sources as well as Silicon Ranch and Walton EMC for their commitment to delivering a world-class facility."
— Solar Builder magazine
[source: https://solarbuildermag.com/news/facebooks-first-solar-farm-in-georgia-is-commissioned/]