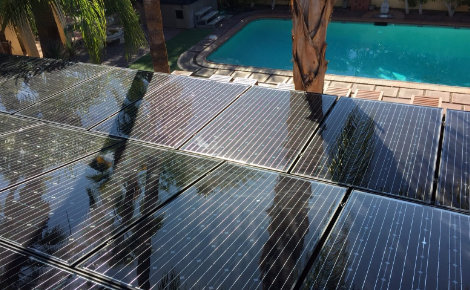 FAFCO has been around since 1969 in the solar thermal manufacturing space and is taking its latest brainchild to crowdfunding. The concept they are looking to crowdfund is CoolPV — an enhanced solar electric panel that generates electricity and heats water using the same panel on the same valuable solar roof space. Because CoolPV cools the solar electric module, it can increase the electrical output of the PV module by up to 20 percent. Including the thermal energy, FAFCO says CoolPV can generate up to four times the power of PV alone and can convert 60 percent of the sun's energy into usable power compared to approximately 20 percent for PV alone. For the past eighteen months, customers across the U.S. have used CoolPV to heat their pools and power their homes.
"After more than ten years of development, we were finally able to combine a PV module with one of our engineered polymer heat exchangers and create a commercially viable combined solar thermal and solar electric panel. In addition to heating their pools, the electric power generated by the solar panels in CoolPV can reduce a customer's electrical bill by 50% or more," said Free-man Ford, Chairman of FAFCO. "Now all types of investors can capitalize on our latest innova-tion, including the customers, fans and followers that we've built over the past 47 years through our extensive dealer network."
The crowdfunding page is located here.
For more on solar thermal, here is our recent Q&A with the leadership at FAFCO.
— Solar Builder magazine
[source: http://solarbuildermag.com/news/fafco-crowdfunding-its-new-solar-electric-solar-thermal-combo-system/]