International alternative floating PV leader Ciel et Terre extends its large-­scale floating photovoltaic (PV) technology to the U.S. with a new team in Petaluma, Calif., and a manufacturing facility in Georgia to provide a system that is entirely made in the United States. Established in 2006 as a renewable Independent Power Producer (IPP), Ciel et Terre offers an affordable and unique alternative to ground or rooftop mounted solar systems.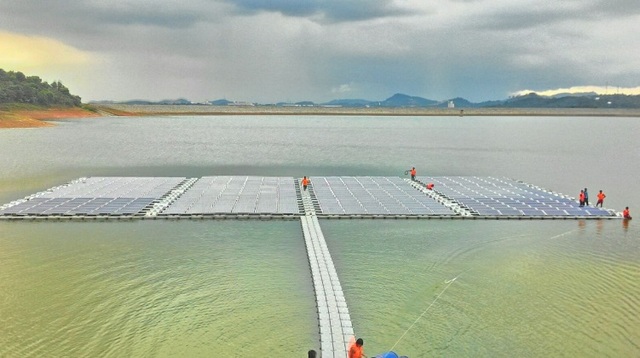 Hydrelio
The innovative design of the floating Hydrelio platform allows standard solar PV panels to be installed on large man­made bodies of water such as industrial reservoirs, dams or irrigation ponds. This is especially valuable for energy and water intensive industries such as water treatment plants and reclamation facilities, wineries and dairy farms that cannot afford to waste resources.
Floating PV Benefits
Hydrelio creates a new use for the surface area of commercial and industrial bodies of water, which are typically unobscured from the sun, kept out of vision and located near energy­ intensive processes. In addition to the direct benefits of generating renewable energy and avoiding the use of valuable land, Ciel et Terre says floating PV technology can bring other benefits to the environment. By covering a significant surface area on the body of water, the system conserves water by reducing evaporation, while the shading from its panels limits algae growth. The company says floating PV presents no danger or risk to surrounding habitats or wildlife when implemented. Furthermore, the solar panels operate more efficiently and produce more energy due to the natural cooling effect emitted through the water.
It is estimated that by 2020, solar will provide more than 3.5 percent of U.S. electricity and by 2050 will generate more than 10 percent of the world's energy. Countries where Hydrelio has already been deployed are looking to achieve similar renewable energy generation goals to reap the economic and climate benefits associated with solar, without sacrificing valuable land resources.
RELATED: Big floating solar project underway in New Jersey 
A prime example where usable land space is limited is in Japan, a country that imports nearly $60 billion in agricultural products a year. Ciel et Terre has designed and implemented over 40 MWp of floating solar generation across 20 plants in Japan, including the world's largest floating PV project under construction on the Yamakura Dam (50,904 floating solar panels).
Hydrelio has also been installed at the London Queen Elizabeth II drinking water reservoir, which is currently Europe's largest floating PV project with a total installed peak capacity of 6.3 MW using 23,046 floating solar panels.
"Floating PVs will be the new driving force to a cleaner Earth," says Bernard Prouvost, Founder and Chairman of Ciel et Terre International. "Hydrelio is the most efficient alternative means of providing renewable energy to the millions while never disrupting the natural aesthetic environment it is placed in. Other countries have witnessed the great benefits, now it's time for the U.S. too."
— Solar Builder magazine
[source: http://solarbuildermag.com/news/floating-solar-company-hits-u-s-shores-for-first-time/]