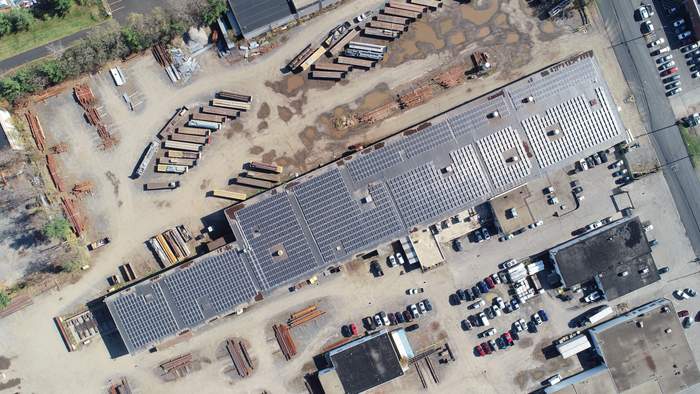 Shepard Steel, a structural steel and miscellaneous metals company serving the Greater Hartford region since 1956, says that a 611-kilowatt (kW) DC solar energy system installed on its headquarters went live on July 23, and has exceeded production estimates in the months since. In the first three months of operation, the 1,674-panel solar energy system generated approximately 200 megawatt-hours (MWh) of electricity, enough to power the company's operations into the winter.
"Since commissioning the solar system we have produced all our structural steel components using solar energy. Where Project Owners, Construction Managers or Design Teams are dedicated to Green Building, Shepard Steel brings another level of clean energy to further their mission," said Shepard Steel VP/CFO Keith F. Wolf.
Details
Shepard Steel's headquarters is a one-story, 100,000-sq.-ft. building at 110 Meadow Street in Hartford, Conn. The manufacturer partnered with Solect Energy of Hopkinton, Mass., and Eversource to install the panels on an area covering 80,000 square feet of the roof.
The solar system is monitored around the clock by Solect, which uses a cloud-based monitoring platform to measure the system's output in real-time, ensuring it operates at maximum capacity. Solect's monitoring also provides historical data and projections on future production that take into account regional weather patterns.
"Smart businesses like Shepard Steel understand how solar reduces their tax liability, reduces overhead, and improves cash flow, all of which improve the bottom line. We commend Shepard Steel for its decision to install a solar energy system that benefits not only the company, but the community and society at large," said Solect Energy CEO Ken Driscoll.
— Solar Builder magazine
[source: https://solarbuildermag.com/news/shepard-steel-says-its-solar-system-is-exceeding-early-production-estimates/]