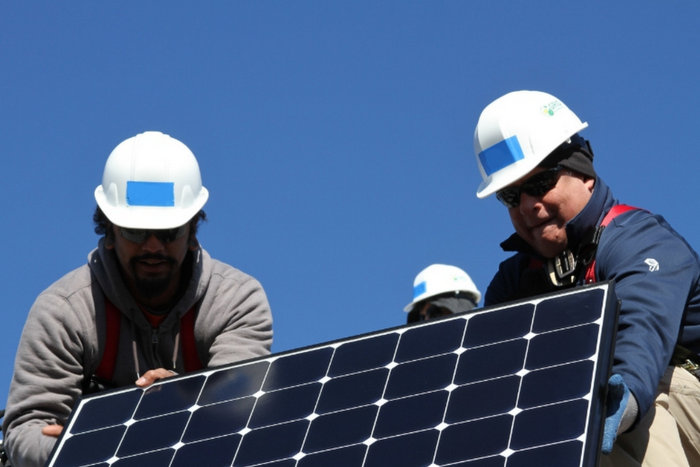 About 80 Austin-based employee volunteers from global solar innovator, SunPower, brought the transformative power of solar energy to four low-income families in Austin's Blackland Neighborhood.
Working with national solar nonprofit GRID Alternatives over two days, the volunteers installed four rooftop solar systems totaling 13 kW of generating capacity. The systems are expected to save each family electricity costs and collectively reduce approximately 233 tons of greenhouse gas emissions over their expected 25-year life. The four homes are among 48 affordable homes built by the Blackland Community Development Corporation (CDC) to serve low-income families, seniors and people with disabilities.
"We are really appreciative of the help," said Bo McCarver, Board President of Blackland CDC. "Thanks to the assistance of GRID Alternatives and SunPower, we're able to provide electricity cost savings to struggling families."
RELATED: Solar power going to low-income houses thanks to California cap-and-trade 
SunPower has partnered with GRID Alternatives since 2006 to extend solar power's benefits to disadvantaged communities, helping more than 800 families and generating 80,000 hours of solar job training opportunities. SunPower also contributed 1 MW of high efficiency solar panels to GRID Alternatives in 2015 to support Solar Futures, a national education initiative targeting high school juniors and seniors.
"This is a meaningful opportunity to provide hands-on support, in addition to our leading technology, to local families in the community where more than 350 SunPower employees live and work," said Erin Mulligan Nelson, chief marketing officer and executive vice president. "We're proud that SunPower's innovative solutions are leading a solar revolution that is changing the way our world is powered."
"These installations highlight the positive economic impacts that solar can generate for families struggling to pay their monthly bills, put food on their table or save for their children's futures," said Erica Mackie, co-founder and CEO of GRID Alternatives. "We're thrilled to be here in Austin with SunPower, our longest-running philanthropic partner, helping its employees make a real impact in their own backyard."
GRID Alternatives is a cool group. Visit their website for more info.
— Solar Builder magazine
[source: http://solarbuildermag.com/news/grid-alternatives-sunpower-bring-solar-to-four-low-income-texas-homes/]