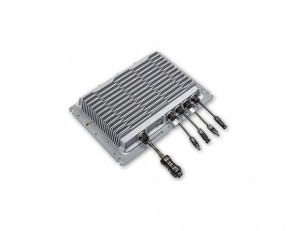 HiQ Solar, a US-based PV inverter company, has selected Flex to manufacture its TrueString inverter family. The TrueString inverter is mainly a solution for commercial 3-phase PV installations, and was recognized last year with an Intersolar PV award for innovation.
"Flex is excited to be HiQ Solar's manufacturing solutions partner, and we are looking forward to helping them ramp their TrueString inverters to high volume production," said Scott Graybeal, Senior Vice President of Energy at Flex.
Founded in 2009, HiQ draws on decades of industry experience in high-tech, with a veteran team from the precision communications test and measurement field. With a successful track record of bringing leading-edge products to market, the company uses a systematic approach to reliability and user-focused design.
RELATED: Power optimizers v. microinverters: What's different about these approaches to PV architecture? 
"I've worked with Flex extensively in the past, and they have shown themselves to be knowledgeable and professional partners," saidRob Howard, VP of Operations at HiQ Solar. "Their emphasis on quality and reliability makes them the ideal company to help us scale."
Flex is a leading sketch-to-scale solutions company that designs and builds intelligent products for a connected world. With more than 200,000 professionals across 30 countries, Flex provides innovative design, engineering, manufacturing, real-time supply chain insight and logistics services to companies of all sizes in various industries and end-markets.
For more, visit the company website.
— Solar Builder magazine
[source: http://solarbuildermag.com/news/hiq-commercial-inverters-made-by-flex/]