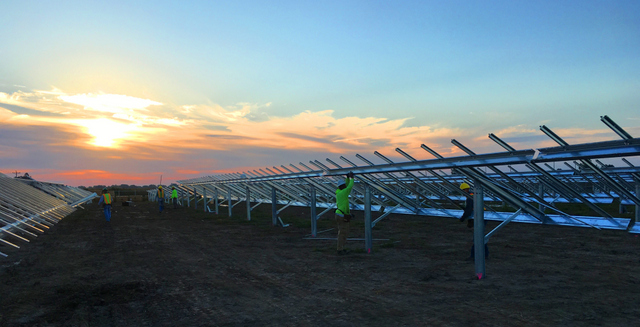 The largest utility-scale solar power generation project in Iowa, a 2.3-MW plant (the largest of the series, which will include five systems and total 5.5 MW) was just installed using Solar FlexRack's G3 Fixed Tilt system. When completed, the five solar electric plants will reduce over 5 million tons of carbon emissions annually.
Developed and installed by Azimuth Energy, the installations under construction are primarily located in the central and eastern regions of the Hawkeye State. Central Iowa Power Cooperative (CIPCO), Iowa's largest cooperative energy provider, will commission the carbon-free, solar plants and the clean energy will be delivered to their membership. CIPCO is part of a powerful movement among electric cooperatives to procure sustainable solar power as a part of their energy offering. (Cooperatives across the US have over 500 MW of solar power installed or in the works.)
RELATED: New single-axis tracker, turnkey service launched by Solar FlexRack 
The G3 Fixed Tilt
One of the most cost-effective racking solutions, Solar FlexRack's G3 Series was independently verified for its ease and speed of installation.
Steve Daniel, EVP of Solar FlexRack said, "We are pleased to have been selected for these projects by an engineering, construction and development support services company as dedicated to quality work and customer service as Azimuth Energy. The rigors of their quality assurance program distinguishes their work and helps to ensure long-term project reliability."
"We work closely with our clients and want to ensure we find the best solutions for their needs. Solar FlexRack met our demanding requirements, providing the most versatile solution with the ability to accommodate varying terrains and duplicate design configurations – reducing engineering time and installation cost," said Marc Lopata, President, Azimuth Energy.
— Solar Builder magazine
[source: http://solarbuildermag.com/news/iowas-largest-utility-scale-solar-project-installed-with-solar-flexracks-g3-fixed-tilt-system/]