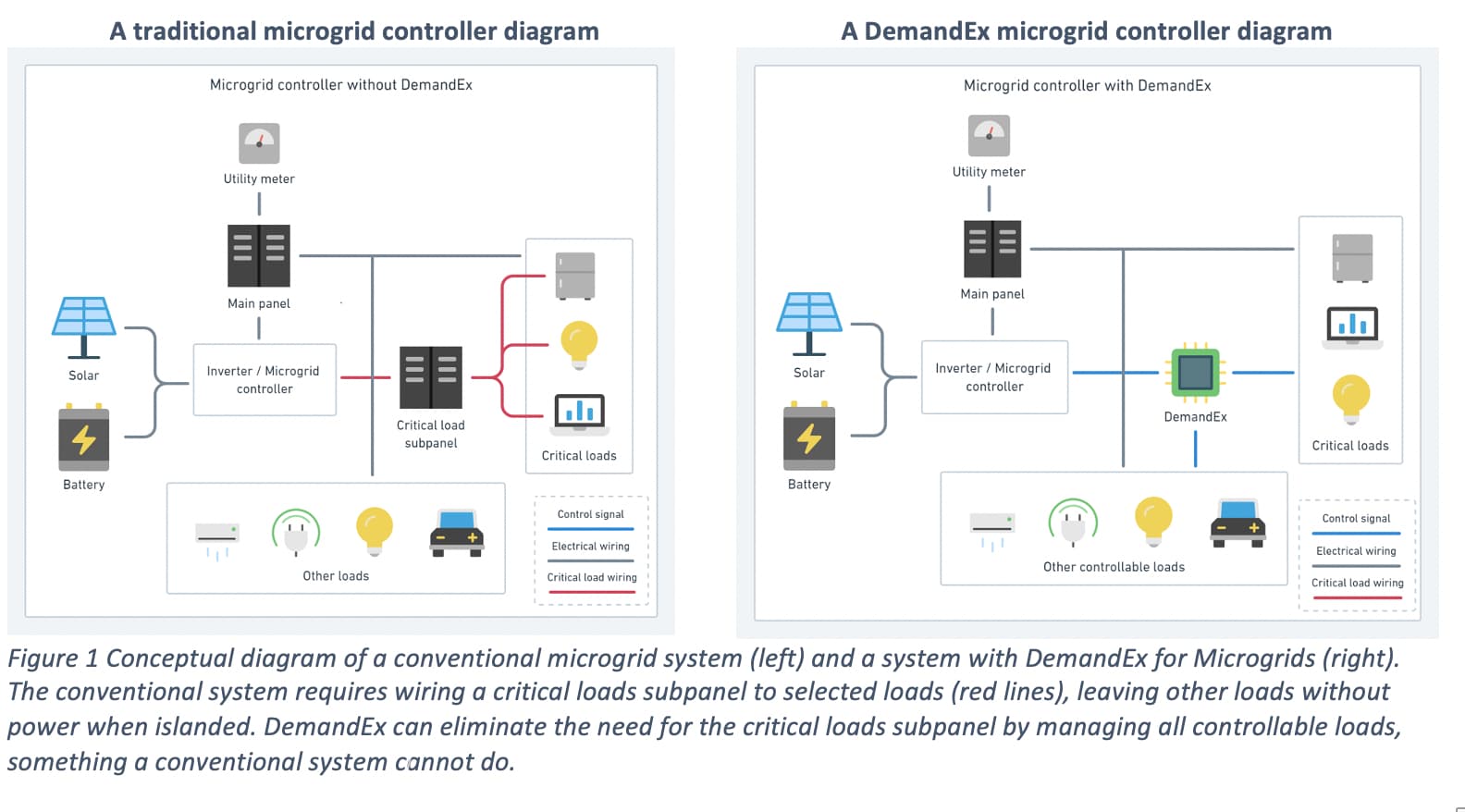 Extensible Energy has released a version of its DemandEx load flexibility software for Microgrids — it will integrate with a microgrid controller to manage and optimize energy usage when off-grid or on-grid. With DemandEx for Microgrids, businesses can move beyond the traditional critical loads panel and utilize dynamic, intelligent software to power more productive loads during blackouts while maintaining or extending the battery capacity.
The result is more cars sold and repaired for car dealerships, more classrooms powered at schools, and more comfortable and productive employees at office buildings.
"The growth in microgrids over the past five years has been remarkable," said John Powers, CEO of Extensible Energy. "With DemandEx for Microgrids, developers have a powerful new tool for the management of load shapes behind the utility meter. It's far easier and more cost-effective to size microgrid equipment for facilities with smooth, regular load profiles than for those with large demand spikes."
How this works
Typically, solar-plus-storage microgrids back up a short list of devices that are wired to a critical loads panel because the battery does not have sufficient capacity to back up the whole facility. With DemandEx's integrated solar forecasting, PV monitoring, load analysis, and intelligent management of flexible loads, the microgrid's critical and select loads are intelligently managed, and demand peaks are shaved during on or off-grid conditions.
The first installation of DemandEx for Microgrids is at Ehrlich Toyota, a Greeley, Colorado auto dealership that desired a flexible microgrid that would be able to keep more sales and repair operations online during a grid outage. The developer for this innovative project, IPOWER Alliance of Lyons, CO, needed a way to provide flexible load control under all microgrid conditions without the prohibitive electrical expense.
Instead of designing the microgrid with several tiers of critical load subpanels, IPOWER Alliance designed and installed a 300 KWac SunPower PV system with SMA inverters and a 228 kilowatt-hour Dynapower energy storage system with an Ageto microgrid controller. Using DemandEx software to manage large flexible loads within the facility (especially HVAC), there was no need to rewire panels or to permanently designate loads as "critical" or "non-critical." Instead, DemandEx for Microgrids assesses the available power in real-time, then automatically reduces load to meet the available solar and battery capacity. As a result, more of Ehrlich's sales and repair departments are now able to remain in operation during grid instability.
"I've had a lot of experience with load management technologies from prior projects," said Diane Dandeneau, CEO of IPOWER Alliance. "I chose Extensible Energy because of its innovative, software-driven approach to situational control. We get full backup of the entire facility when solar production is high and automated control of large energy subsystems like HVAC as the battery picks up the load. And the same software provides demand-charge management and TOU arbitrage when we're connected to the grid, which adds significantly to the bill savings."
Scott Ehrlich, founder and CEO of Ehrlich Toyota added, "IPOWER Alliance went above and beyond what I thought was possible, keeping more of our operations running during outages, not just a few 'critical loads.' Every load is critical when you're in business. Thanks to the work Diane and her team did to combine solar, battery storage, and advanced software controls, our dealership can now reliably stay open and continue to serve our customers."
— Solar Builder magazine
[source: https://solarbuildermag.com/news/load-management-software-demandex-now-integrates-with-microgrid-controllers-reduces-need-to-rewire/]