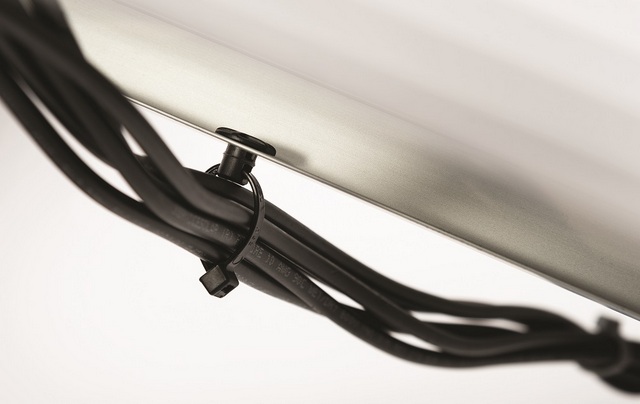 HellermannTyton, a specialist in the design and manufacture of robust solar fasteners, announces a high-performance Button Mount with Cable Tie and Locking Clamp. The two products fit the predrilled holes of most solar modules. They are rated for extended life in demanding outdoor environments and available for immediate shipping.
The Button Mount with Cable Tie fits most module holes and requires zero insertion force. Once placed through the module's frame, installers can insert the included Solar Tie through the mount on the frame's opposite surface.
The Locking Clamp fully closes and locks over a cable bundle. This fastener features an integrated fir tree mount for easy installation and includes a saddle for adding an optional Solar Tie and extending its bundle capacity. Designed with single-axis trackers in mind, it demonstrates exceptional extraction resistance.
RELATED: Heyco introduces four new cable tie products
"Many installers run standard cable ties directly through sharp module holes, probably because it's fast and easy; but unfortunately, those ties will fail prematurely," said Product Marketing Manager – Energies Nick Korth. "So, we made these mounts easy to install but tough enough to withstand sun, wind and movement within module holes for years."
Both products fit holes from 9×12 mm to 9×14 mm and can manage several cables. They are manufactured of high impact modified, heat-resistant, UV stabilized material, which is ideal for long-term performance in the full range of weather and climate extremes.
Full brochure is located right here.
— Solar Builder magazine
[source: https://solarbuildermag.com/news/solar-button-mount-with-cable-tie-and-locking-clamp-now-available-from-hellermanntyton/]