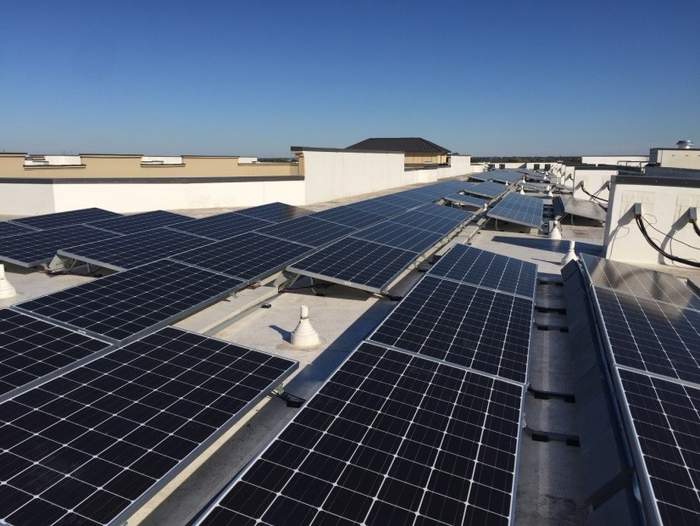 PCI Solar, in partnership with Green Mountain Energy, has completed construction on the fourth and final rooftop solar installation for AMLI Residential at its Dallas-area apartment communities. The projects, part of a sustainability initiative between AMLI and Green Mountain Energy, total 445 kilowatts (kW). AMLI is also purchasing 100 percent renewable energy for all of the common areas at its apartment communities in Dallas and Houston from Green Mountain Energy.
The Dallas-area projects are located at AMLI at the Ballpark, Campion Trail, AMLI Frisco Crossing and AMLI West Plano apartment communities.
PCI constructed the projects in a staged process, beginning in November 2017 and ending a year later. The four projects combined are expected to generate 20 percent of common area electric use at each community.
The sustainability initiative marks a dramatic step in AMLI's commitment to making its communities increasingly more sustainable. By moving its more than 20 communities in the Texas competitive electricity market to 100 percent renewable energy, AMLI is expected to offset more than 20.1 million pounds of carbon dioxide per year, which is the equivalent of planting 2,300 trees or taking 2,100 cars off the road for a year.
"We are proud to partner with AMLI in making their communities more sustainable and help them take this important step in providing clean energy to power their apartment community common areas," said Mark Parsons, vice president and general manager of Green Mountain Energy.
— Solar Builder magazine
[source: https://solarbuildermag.com/news/pci-solar-completes-final-solar-installation-of-dallas-area-apartment-complex/]