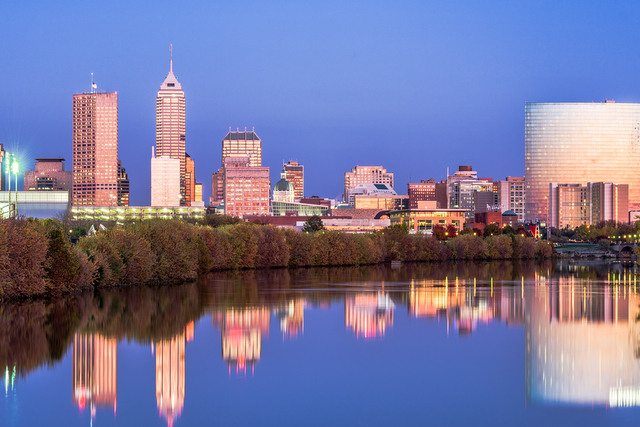 As utility data becomes more publicly available, the more innovative ideas and solutions can be proposed. Like this: A report issued by Indiana Advanced Energy Economy finds that a combination of demand reduction strategies could avoid or defer the need for new power plants, transmission lines, and distribution infrastructure across Indiana and save up to $2.3 billion for business and residential electricity customers.
The report, Potential for Peak Demand Reduction in Indiana, prepared for Indiana AEE by Demand Side Analytics, examines potential for savings from reducing peak demand using three different market strategies:
Curtailing commercial and industrial electricity demand;
Installing more smart thermostats across Indiana's residential sector; and
Deploying energy storage technologies.
Examining the impact of these strategies under scenarios representative of avoided costs in Indiana, the analysis shows that net benefits for electric ratepayers (total savings minus costs) range from $448 million to $2.3 billion over 10 years.
"There are ways to meet Indiana's energy needs by reducing demand that are much lower cost than buying additional power or building expensive new power plants," said Vince Griffin, executive director of Indiana Advanced Energy Economy, a state affiliate of national business association Advanced Energy Economy. "As Indiana plans for its energy future, regulators and utilities searching ways to bring down electricity costs in the state should take this report's findings to heart and implement effective demand reduction programs."
Why demand response
Demand response strategies, which shave peak loads or shift them to off-peak hours, can be cost-effective alternatives to costly construction of new generation resources that sit idle most of the year. Energy storage technologies like batteries achieve similar benefits by storing energy at times when it is plentiful for use during peak hours. The same strategies could save from 1,500 to 4,800 megawatts of electric capacity through 2027, significantly offsetting Indiana's need for additional generating capacity over the next decade.
Demand reduction strategies are significantly less capital-intensive and more economic for meeting demand during peak hours than investing in traditional "peaker" power plants, which sit idle for most the year. Utility investments in electricity infrastructure are overwhelmingly driven by peak loads, with approximately 10% of infrastructure investments serving load for just 1% of the hours of the year.
"It's simply good business to utilize advanced energy technologies and resources that reduce energy waste," said Rick Counihan, Head of Energy Regulatory and Governmental Affairs at Nest Labs. "Increased adoption of smart thermostats across Indiana's residential sector can not only help Hoosiers manage how much energy they use but, as importantly, when they use energy. Reducing energy usage when it is most expensive can drive significant cost savings for Indiana ratepayers."
"Our analysis shows that reducing peak demand is a smart and cost-effective way for Indiana to meet the energy needs of its citizens," said Jesse Smith, principal consultant for Demand Side Analytics. "With the right policies, demand reduction will allow both Indiana utilities and grid operators to meet capacity needs at lowest cost."
At nearly 48,000 workers, advanced energy employs nearly twice as many people in Indiana as colleges and universities, more than machinery manufacturing, and approaching auto parts manufacturing, according to a report published by Indiana AEE in 2016 based on the latest 2015 data. At the time, advanced energy industry supported one out of every 50 workers in Indiana and was expected to grow 2% by the end of 2016.
— Solar Builder magazine
[source: http://solarbuildermag.com/news/report-indiana-could-save-2-3-billion-via-demand-reduction-strategies/]