Despite gaining ground in 25 states in the country, the overall residential solar market declined in 2017 due in large part to a decline in the saturated California market. We noted this at the time and then somewhat glossed over it to highlight the countrywide expansion, but a new report from Lumidyne Consulting raises concern over just how saturated the California market is and what the implications could be.
The analysis forecasts that if current adoption patterns hold, "installations of residential [solar] would be expected to drop from a peak of about 149,000 systems/year in 2016 to ~92,000 in 2018 and 46,000 in 2020 (a 69% drop relative to the peak in 2016)."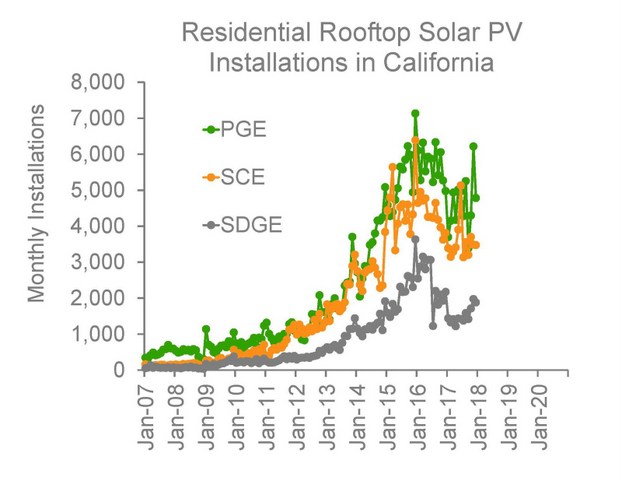 The paper notes that after a decade of explosive growth, in 2017 the residential solar market in California saw its first decline in annual installations, a 22% drop relative to 2016. The white paper suggests this decline is likely due to the beginning of market saturation in the residential solar retrofit market, which peaked in December 2015 for all investor-owned utilities in California and has since trended downward.
The paper illustrates how housing growth in California, combined with strong incentives or initiatives to install solar on new construction homes, could help mitigate the decline and avoid job losses in the state. The analysis underscores the importance of initiatives to encourage construction of Zero Net Energy (ZNE) homes in California, which has a goal of 100% of new homes being constructed to a ZNE standard by 2020. However, it suggests that "the growth rate of the percentage of new homes installing solar PV would have to accelerate to materially mitigate the current pattern of decline in the retrofit market," since currently about 20% of new homes install solar.
The paper also applies to other states, and notes that "unless steps are taken to mitigate the effect, one can expect a ripple of 'boom and bust' waves to propagate across the country as each [solar] retrofit market ultimately becomes saturated."
Here's the white paper if interested in the findings.
— Solar Builder magazine
[source: https://solarbuildermag.com/news/report-solar-retrofit-market-california-hitting-saturation-point/]