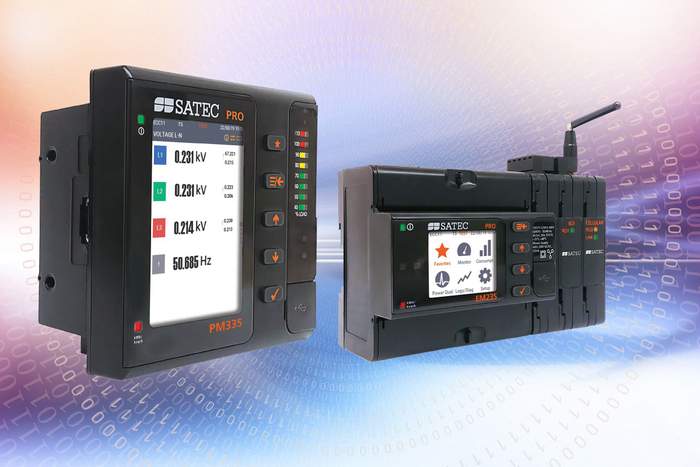 SATEC, Inc., global supplier of power monitoring instrumentation and reporting and analysis software, introduces the PRO Series of revenue-grade energy meters. This new and innovative series of DIN-rail and panel-mounted meters accept either AC or DC voltage and current inputs. This flexible input capability will allow a PRO Series meter to monitor and record a large solar panel installation's DC output power and, using a second identical meter, to monitor and record the system's inverter AC output. The data provided by the two instruments can be used to compute overall system efficiency and identify performance issues.
SMA's ShadeFix optimization produces more energy than traditional optimizers. ShadeFix also provides greater reliability and less service risk than alternatives. Watch the video to see for yourself!
The PRO Series power meters' modular design bundles into a single metering device, numerous essential functions, useful features and benefits:
• AC (Three-phase + Neutral) and DC Inputs – only product in this class offering both AC (10-1000V) and DC (10-3000V) in the same meter
• Revenue-Grade Accuracy – ANSI C12.20 Class 0.2, IEC 62053-22, IEC 61557-12 class 0.2
• Intuitive Color Display – icons facilitate easy set-up and display
• Dual Ethernet Ports – two independent IP addressable ports
• Comms Protocols – Modbus, DNP3/DNP3.0/TCP (level 2) and IEC61850
• Expandable Modular I/O – analog and digital I/O for up to 26 additional channels
• PLC Functionality – provides up to 64 programmable setpoints
• 16GB On-Board Memory – for extensive energy profiling and power quality event recording
• Seamless Integration – with SATEC ExpertPower, DNP and other 3rd party platforms
• Power Quality – recording of harmonics, crest factor, k-factor and event capture of sags/swells
• Economical – exceptional functionality
"With the rapid expansion of renewables, other distributed energy resources (DER) and battery storage, there is a growing need for DC metering," said Eric Lambert, SATEC's Tech Services Director. "The ability of the new PRO Series to accommodate both traditional AC metering – as well as DC – offers a cost-effective and highly adaptable solution."
A comprehensive data sheet and informative brochure are available online.
— Solar Builder magazine
[source: https://solarbuildermag.com/operations-maintenance/satec-debuts-pro-series-energy-meters-to-offer-both-ac-dc-inputs/]