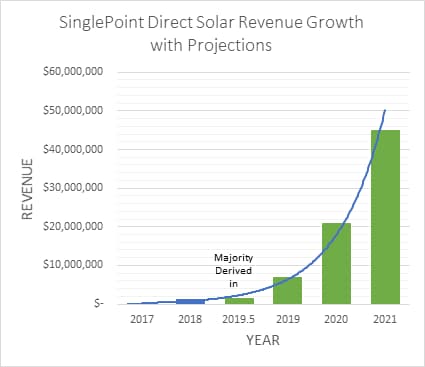 SinglePoint says Direct Solar has surpassed its expectations by signing contracts to deploy more than $1.7 million in solar installs over the past 30 days and adding up to a two-month total of nearly $3.5 million in contracts. Now that these are in contract they will move to the next phase in planning and installation. The company says most of the revenue derived from these contracts will be recognized throughout the third and fourth quarter.
The previous 30 days should generate approximately $884,117 in gross and $396,159 in net.
Currently Direct Solar is operational in eight states and continues to expand its residential solar footprint with murmurs that financing companies have approached the company to start a commercial financing division too. In fact, the first financing contract was signed last week and now the company will offer renewable energy options to commercial operations and have the ability to finance these larger scale projects.
SinglePoint, Inc. is a technology and acquisition company with a focus on acquiring companies that will benefit from the injection of growth capital and technology integration. The company portfolio includes mobile payments, ancillary cannabis services, blockchain solutions and renewable energies.
A subsidiary of SinglePoint, Direct Solar America is a solar energy brokerage focused finding and installing "the best available solar energy system for any building residential or commercial for no money down, no cost for an estimate."
— Solar Builder magazine
[source: https://solarbuildermag.com/financing/singlepoints-direct-solar-brokerage-signs-three-million-dollars-in-solar-install-contracts-in-two-months/]