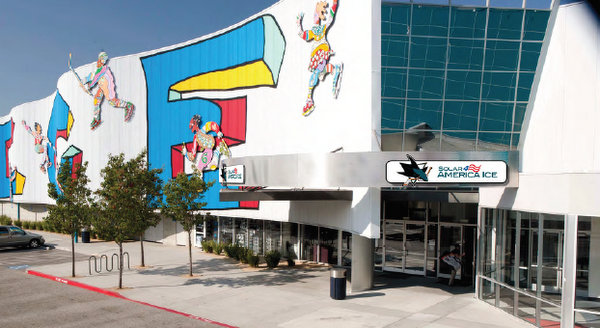 In conjunction with opening day for the 2016-17 National Hockey League season, Sharks Sports & Entertainment announced an agreement with Solar4America by PetersenDean Roofing & Solar to rename the Sharks' Ice rinks in San Jose and Fremont.
The multi-year, partnership will include prominent signage on the exterior and interior of each building along with a name change to Solar4America Ice at San Jose and Solar4America Ice at Fremont. Additionally, Solar4America will become the Official Solar Partner of the San Jose Sharks. The agreement for the rink in San Jose is pending approval by the San Jose City Council.
"The San Jose Sharks are pleased to be partnering with PetersenDean for the naming rights to the public ice facilities managed by Sharks Sports & Entertainment in both San Jose and Fremont," said John Tortora, Chief Operating Officer of the San Jose Sharks. "PetersenDean, a roofing and solar company, is an ideal partner for these facilities as its commitment to the environment aligns nicely with the City of San Jose's Green Vision, a plan for economic growth, environmental sustainability, and an enhanced quality of life for the community."
RELATED: Details on PetersenDean's roofing and solar expansion plans 
"Having grown up in San Jose and being a long-time Sharks fan, I am delighted that PetersenDean is partnering with the team and their ice rink facilities," said Jim Petersen, Founder and Chief Executive Officer. "Solar4America Ice rinks are world-class facilities that provide children and families a safe, clean environment to be healthy and active and we are proud to be part of it."
Sharks Ice at San Jose is located at 1500 S. 10th Street in San Jose and is the largest public rink facility west of the Mississippi, currently operating four NHL-sized rinks. The nearly 170,000 square-feet facility accommodates ice hockey, figure skating, broomball, curling, speed skating, ice dancing, as well as public skating and is the official practice facility of the NHL's San Jose Sharks.
Founded in 1984 by Jim Petersen, PetersenDean is the largest, full-service, privately-held roofing and solar company in the United States. Specializing in new residential and commercial construction, PetersenDean works with some of the nation's largest builders and developers. With more than a million roofs under its belt, the Fremont, CA-based company employs 3,000 workers and operates in seven states: Arizona, California, Colorado, Florida, Nevada, Oklahoma and Texas.
— Solar Builder magazine
[source: http://solarbuildermag.com/news/solar-installer-sponsors-nhl-teams-ice-rinks/]