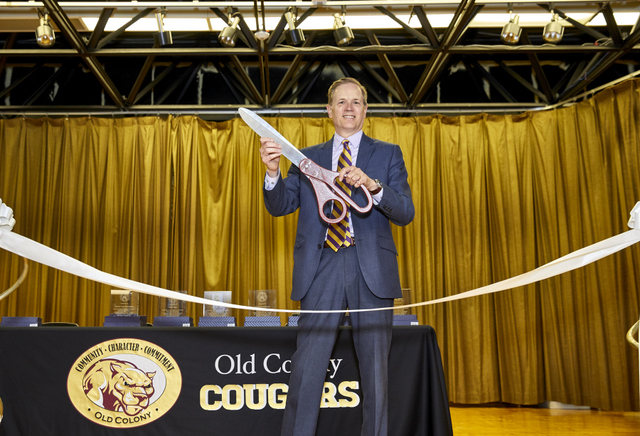 Unveiled at an official ribbon-cutting by the Massachusetts Secretary of Education, Jim Peyser on the campus of Old Colony Regional Vocational Technical High School came the official opening of the new Solar Training Program for high school students preparing to begin their careers in the 21st Century workplace. This was made possible after an OMCO Solar donation to Old Colony Regional Vocational Technical High School's new Solar Training Program, in partnership with the Massachusetts Workforce Skills Capital Grant, Cypress Creek Renewables and Solar Frontier.
"We are proud to support Old Colony Regional Vocational Technical High School to help train the next generation of solar professionals," said Jared Porpiglia, Senior Director of Procurement for Cypress Creek Renewables. "Cypress Creek is committed to building clean, affordable solar throughout the Northeast and we look forward to working with our industry and educational partners to empower strong and healthy communities."
The solar program launch at Old Colony High School comes at a critical time for the Northeast region. No one knows what the future holds for Massachusetts after the push by Eversource to impose a demand charge on solar customers, but as of now, Massachusetts ranks 6th in the U.S. for installed solar capacity having over 2 GW in the ground and 330,445 homes powered by solar energy. There are 478 solar companies now working within the state, 11,530 active solar jobs in Massachusetts and an additional 1,741 MW of solar growth projected for installation over the next five years, as calculated by the Solar Energy Industries Association.
Seizing upon this opportunity for students, Old Colony High School leadership applied to the state of Massachusetts through the MA Workforce Skills Capital grant program. Awarded $577,197 in grants, four vocational and training programs at the school will benefit from the acquisition of new equipment. It also enabled the beginning of a Solar Training Program curriculum.
RELATED: Here's a plan to cut solar costs to offset impact of new tariffs on panel prices
Aside from the grant money, Old Colony High School required a resource for the racking structures and solar modules to give students direct experience with installation applications. A chance meeting in Logan International Airport between OMCO Solar Director of Business Development, Eric Goodwin and AET Labs, Mark Lyons, (who was working with the Massachusetts Schools STEM Program) quickly paved the way for sourcing of racks and modules. Soon after, an official start date for the solar program at Old Colony was set.
In support of the school's development of vocational programs to support renewable growth in the Northeast, OMCO Solar donated 15-ft. of Field-Fast fixed-tilt racking, along with strategic partner Cypress Creek Renewables who gave twelve, SF-165 solar modules made by Solar Frontier.
Before the official launch celebrating the Solar Training Program, students of Old Colony High School assembled the large section of Field-Fast racking on the school's campus with supervision by John Reed, Manager of Engineering for OMCO Solar. The racking and modules they built will be used throughout the year to educate and train students enrolled in the upcoming solar program at Old Colony High School.
"OMCO Solar believes the availability of solar curriculum at the vocational level is vital," said Eric Goodwin, Director of Business Development for OMCO Solar. "Aside from donating Field-Fast racks for the Solar Training Program and sharing our industry knowledge with the teaching and administrative staff, OMCO will continue to have an extended partnership with Old Colony to participate in other student programs in the future."
— Solar Builder magazine
[source: https://solarbuildermag.com/news/solar-job-training-program-launches-at-massachusetts-vocational-school/]