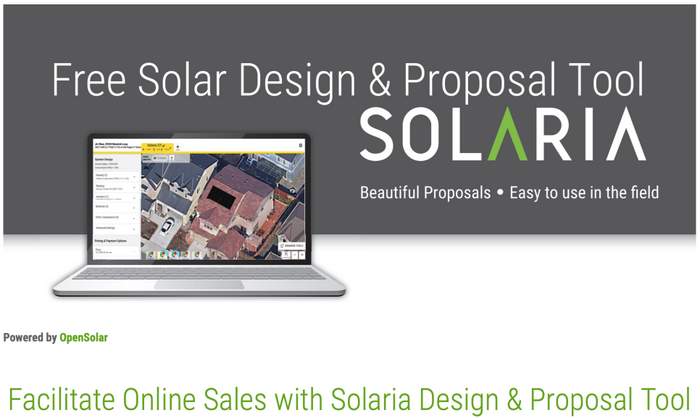 Solaria Corp. has arguably the best high-efficiency, all-black residential PV module out there, which means that common solar design tools don't quite do it justice in terms of value and visuals. That's why Solaria is teaming with OpenSolar on the new Solaria Proposal Tool. This solution will combine OpenSolar's cloud-based, interactive PV design tool (we profiled here) with Solaria's product content and functionality. The high-resolution imagery will create beautiful and powerful designs.
Solaria is making this comprehensive cutting-edge proposal and design tool free to its Pro Partner dealer network, as well as Solaria solar panel installers across the United States. Supported on both desktop and mobile devices, the Solaria Proposal Tool supports dealers who wish to work in person or remotely.
"Solaria's design tool is state-of-the art and is the perfect companion for our PowerXT solar panels," said Solaria President Howard Wenger. "Now installers can work with their customers remotely to develop and sell compelling solar designs quickly and easily. We're excited to have our Pro Partners win more business with this innovative proposal and sales tool."
"OpenSolar is pleased to be collaborating with Solaria to create beautiful layouts and interactive online proposals that expedite remote selling," said OpenSolar co-founder Andrew Birch. "Customers will appreciate the dynamic designs and detailed options for their property. Designs that are customizable –in real time– to facilitate rapid response. At a time where remote selling is critical to our industry's continued success, this is an integral addition to installers' toolkits."
The Solaria Proposal Tool automatically calculates the impact of shade on solar generation due to nearby objects, taking into account the Solaria panel's superior performance in partial shading conditions. Developed in collaboration with the OpenSolar team, this customization enables dealers to showcase the Solaria premium panel aesthetics and performance as their customers will actually experience it.
"We've been using the Solaria Proposal Tool to create beautiful interactive proposals and close sales remotely," said Matt Riege of Coastal Solar, a leading installer in California. "Not only does the Solaria Proposal Tool make the tedious task of laying out panels on the roof simpler, the results are clean and professional. Our proposals now make us look good and showcase why Solaria's PowerXT panels are the obvious choice in premium solar."
— Solar Builder magazine
[source: https://solarbuildermag.com/news/solaria-teams-with-opensolar-to-debut-this-free-solaria-proposal-tool/]