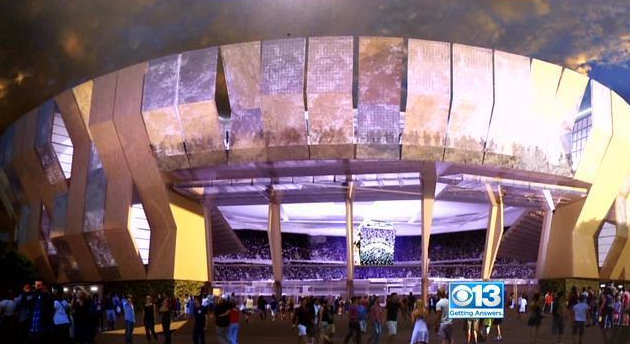 The Sacramento Kings and SMUD announced a new partnership to provide Golden 1 Center one of the lightest environmental footprints of any arena in the world. The partnership includes two key components:
1. SolarShares: The Kings and SMUD have agreed to a 20-year SolarShares partnership to provide Golden 1 Center with approximately 85 percent of its annual electricity needs. The recently announced 10.88-MW solar farm planned for Rancho Seco, Calif., will generate a portion of this clean, renewable energy. By powering Golden 1 Center with energy from SolarShares, nearly 2,000 tons of greenhouse gas emissions will be kept out of the atmosphere each year, which is equivalent to the amount of emissions generated by over four million vehicle miles.
RELATED: Here's a community solar solution for investor-owned utilities 
2. Energy Efficiency Consulting and Collaboration: SMUD's nationally-recognized experts have worked closely with Golden 1 Center's designers to make it one of the most energy-efficient arenas in the world, reducing utility energy consumption by over 35 percent. As a direct result of this collaboration, the arena's on target to achieve LEED Gold certification – making it the first NBA arena in California and one of the first in the country to achieve this prestigious status. SMUD is also providing incentives for a number of energy-efficiency measures recommended by its experts, including extensive use of LED lighting, highly efficient Heating, Ventilation and Air Conditioning (HVAC), advanced energy controls and the rooftop solar PV system.
"Utilizing the best sustainable practices reflects the values of our fans and city, benefits our region and signals that innovation can make the world a better place," said Kings President Chris Granger. "Golden 1 Center will serve as a new global model for leveraging our natural resources in smart and efficient ways."
"This partnership demonstrates our continued commitment to sustainability and environmental stewardship, as well as local economic development," said SMUD CEO and General Manager Arlen Orchard. "The new Golden 1 Center is an exciting addition to our downtown core, and we're proud to help it become one of the most sustainable and technologically advanced arenas in the world."
SMUD has also played a key role in preparing the downtown arena site and surrounding areas for demolition and construction on an accelerated timeline. Upgrades include the relocation of underground equipment and surrounding infrastructure to handle new energy requirements.
— Solar Builder magazine
[source: http://solarbuildermag.com/news/solarshares-a-big-part-of-new-sacramento-kings-stadium-clean-energy-plan/]