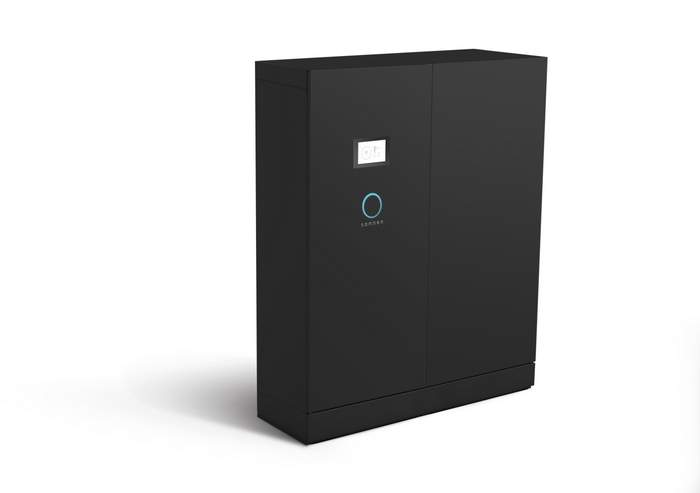 Sonnen announced the launch of the ecoLinx 30 intelligent energy storage system, which will integrate sonnen's battery chemistry with solar, automation platforms and controllable breakers to provide an impressive, comprehensive clean energy solution for smart homes.
The increased capacity of the sonnen ecoLinx 30 can power homes for longer periods of time, extending how long the home is powered with clean energy during peak periods, cloudy days and beyond, and it can also offer increased resiliency during power outages along with the numerous additional benefits that result from using an intelligent battery to manage energy usage.
ecoLinx 30 features sonnen's warranty of 15,000 charge cycles/15 years as well as the same ability to add energy automation functionality as the existing ecoLinx product portfolio. And with a new, shorter and wider form factor, ecoLinx 30 provides greater flexibility and versatility for placing energy storage in and around the home.
Solar's Fastest Attachment
Damaging roof shingles used to be one of solar installers' worst challenges. Now, the easy, affordable solution is NanoMount

, SunModo's newest solar mounting innovation. Learn more here.
By working with new or existing solar systems, automation platforms, and controllable breakers, ecoLinx 30 joins the existing portfolio of sonnen energy automation products in offering smart weather forecasting, smart configurable backup power, smart demand control and load management to provide greater overall management of energy usage in the home. The sonnen ecoLinx 30 is also eligible for participation in growing "bring your own battery" programs that provide homeowners with access to cash back through select utilities when they share their battery's excess clean energy for grid demand response programs.
"At sonnen, we adapt to the growing and changing market needs while still providing one of the safest, longest-lasting and most innovative energy management solutions. We are excited to offer the higher-capacity ecoLinx 30 that builds upon our sophisticated energy management platform, to meet the unique needs of our customers," said Jessica Weiss, National Business Development Manager for Energy Automation and A.I. at sonnen, Inc.
— Solar Builder magazine
[source: https://solarbuildermag.com/news/sonnen-debuts-ecolinx-30-a-bigger-badder-home-energy-storage-system/]