Labeling components of a solar photovoltaic (PV) system is not only a good idea for asset management and inventory, but it's also critical to maintain safety. Firefighters rely on solar labels to identify hazards, installation type, and shutoff location during an emergency.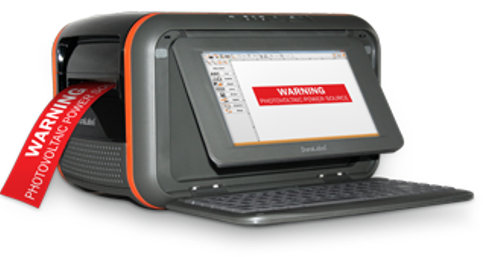 Graphic Products has bundled everything the PV installer may need to make the process easier for solar labeling. The DuraLabel Toro Solar Kit is now available in the Graphic Products online store, and the kit's contents may be modified for customer's specific needs.
Solar power labels are so important that the 2017 revision of the National Electrical Code (NEC) has streamlined solar labeling requirements in an effort to improve compliance and safety in 2017. This requires solar installers to understand and include critical information on labels for all aspects of PV generation systems, whether you're labeling junction boxes, stand-alone PV systems, or the panels themselves.
RELATED: Get to know NEC 2017 revisions: Updated PV labels, rapid system shutdown 
What the DuraLabel Toro Solar Kit Contains
DuraLabel Toro can handle many aspects of solar labeling. Toro prints labels 1/2 to 4 inches wide, allowing users to quickly print labels and signs on-site without a PC or power source when used with an optional battery.
Second is supplies. PV systems call for high-quality labels to meet local code requirements. This solar kit allows PV workers to tackle labeling projects with Premium Vinyl Tape. Red and white supplies are included with the Toro kit, making it easy to label junction boxes, AC and DC power sources, and more. It stays adhered to surfaces heating up to 200°F, resists moisture, and stands up to UV light and most chemicals.
Red Reflective Vinyl Tape enhances both daytime and nighttime visibility for long distance viewing. With excellent reflectivity, this tape is easily applied to flat surfaces and will ensure compliance when labeling conduits, pull boxes, and rapid disconnect switches, thereby helping firefighters and other first responders see the information they need, when they need it.
Solar PV systems have complex labeling requirements, which is why the kit also includ00es 4×6 Outdoor Warning and Danger Die-Cut labeling stock. This helps users quickly print specific warnings needed for junction boxes and combiner boxes, as well as the directories for interconnected power systems and standalone PV systems.
Manufacturers of solar panels will appreciate the DuraLabel UL 969 Compliant Poly Tape, also included with the kit. Many state building codes require manufactured items to be labeled with important product information like the date of manufacture, serial number, and even technical specifications, using UL 969 compliant labels. This reliable labeling supply is protected by a glossy and durable topcoat that resists water, UV light, and solvents, while its industrial adhesive ensures long-term adhesion, meeting some of the most rigorous labeling requirements in the industry.
The solar kit is $2,999, value priced as a bundle. If bought separately, the kit's components would cost more than $4,200.
— Solar Builder magazine
[source: http://solarbuildermag.com/news/streamline-your-pv-system-labeling-with-this-new-kit-from-graphic-products/]