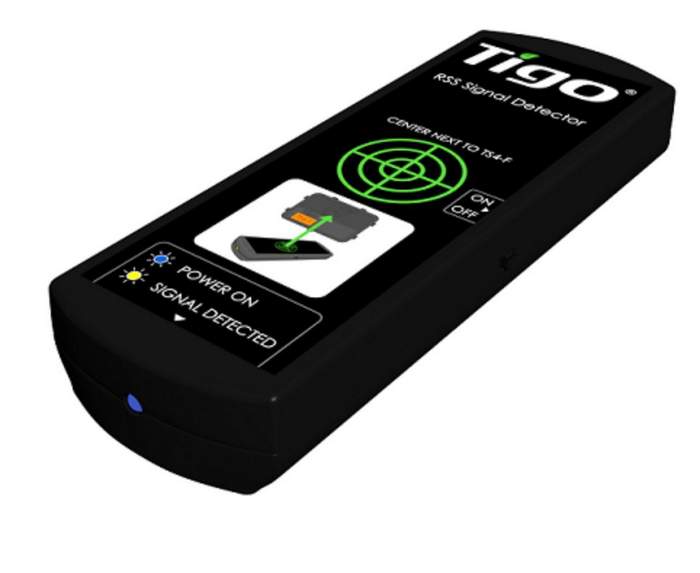 Tigo Energy continues to innovate in the solar rapid shutdown space. Its latest products is a handheld RSS (Rapid Shutdown System) Signal Detector to accompany its RSS Transmitter released last quarter. Tigo's RSS Signal Detector is a testing device for sensing the power-line communication (PLC) signal which is generated by Tigo's RSS Transmitter and controls Tigo's TS4-F (Fire Safety) units.
The RSS Signal Detector is used during installation and commissioning to verify that the TS4-F units are receiving the rapid shutdown keep-alive signal from the RSS Transmitter. It is a handheld, failsafe tool that PV installers use to test the system or identify the source of a problem with systems that do not function properly. The RSS Signal Detector identifies the controlling signal for systems that are compliant with U.S. National Electric Code (NEC) 2017 690.12 rapid shutdown specifications.
The TS4-F, RSS Transmitter, and RSS Signal Detector comprise Tigo's most cost-effective rapid shutdown system architecture when paired with Tigo's UL-certified TS4-F (integrated) or TS4-R-F (retrofitted/add-on) solutions along with the standalone or inverter-integrated RSS Transmitter. The RSS Transmitter Kits are available as Single Core and Dual Core with accessories to make it an ideal fit for any PV system size.
Don't miss our annual Mounting Guide edition in May — subscribe to Solar Builder magazine (print or digital) for FREE today
"This RSS Signal Detector is first-to-market and the only testing tool for rapid shutdown," says Zvi Alon, Chairman & CEO at Tigo. "After launching the Fire Safety solution, we designed this failsafe tool for PV installers so they can save time and money to ensure keep-alive signal at any time and at any installation. Almost all states have now adopted NEC 2017, and this completes the most cost-effective compliant solution available today."
— Solar Builder magazine
[source: https://solarbuildermag.com/news/tigo-energy-adds-handheld-rapid-shutdown-signal-detector-to-rss-product-line/]