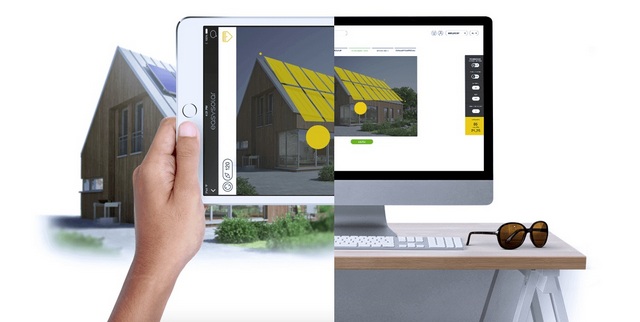 The EasySolar app wants to change the way solar reps and designers approach project management, PV design and proposal generation beyond the walls of an office.
Imagine you have a lot of meetings during the day. You need to quickly find a specific project after a phone call but you're traveling. Simply enter the customer's telephone number from incoming calls to find a proposal you're looking for or just look for this project through the meeting status, or any other data, using your smartphone.
Sales in the cloud
Solar companies often struggle with a shortage of time and efficiency when it comes to professional document preparation as they usually use combination of CAD and Excel or in-house software. This can be inefficient, may cause opportunities to slip away and actually gives no guarantee of conversion.
The problem could be easily solved with a dedicated, cloud-based software that offers a whole package. If it's available also on mobile devices, like EasySolar, it can substantially improve a company's workflow and productivity, reducing its operation costs and becoming an integral element of PV design and sales.
Solar reps spend over half of their time on site visits. After a long day of meetings, the data entry from paper notes into CRM platforms can be challenging. What's more, if this data can be accessed only from the computer, it becomes useless when solar reps are back in the field. Therefore, there is absolutely no need for solar design and proposal generation to be centered only in the office.
With the EasySolar app, different tasks can be made with mobile devices:
• The use of GPS function makes it possible to check solar radiation data for a particular location.
• A module layout can be created directly on the rooftop picture captured during the site visit and any modification could be applied right away, presenting different scenarios stimulating customer's engagement in the process.
• Gyroscope and compass present in mobile devices facilitate rooftop inclination and orientation measurements.
• At the end, all data will be saved in the cloud and all projects would become accessible both from mobile device and from web-based multifunctional online platform to be polished and managed afterwards.
What's new in EasySolar 2.0
Now you can also manage your project using EasySolar's colourful project management platform to work faster anywhere you are:
• Add a project with all client data and GPS localization when you are in field.
• Take notes when meeting your customer using a notebook feature in the mobile app and assign them directly to the project.
• Define 9 colorful blocks with your own statuses names – your business jargon is welcome.
• Assign status to each of your projects and share them with your working partners.
• Once you generate a proposal – the status of the project will automatically change into "customer proposal" status.
• Use the search engine to find your project by: its status, name, customer's name, address, telephone, email and project owner and the date of last modification.
The new version also provides:
• Smoother Google Maps, image and sketch design
• New financial analysis – more support mechanisms, data autocompletion
• New ways of presenting benefits of solar to customers (bill cost without solar, total savings after 20 years, and more)
• New proposal – even more beautiful and clear data presentation
• 15 currencies for different markets (USD, EUR, GBP, INR, ZAR, BRL, PESOS, CAD, AUD, SEK, NOK, PHP, THB, AED and PLN)
• Spanish language
• Inverter configuration is not mandatory to generate proposal anymore
EasySolar 2.0. is available online here, or on mobile devices from Google Play and AppStore. A free 24-hour trial version is also available.
— Solar Builder magazine
[source: http://solarbuildermag.com/news/try-mobile-proposal-generation-pv-design-app/]