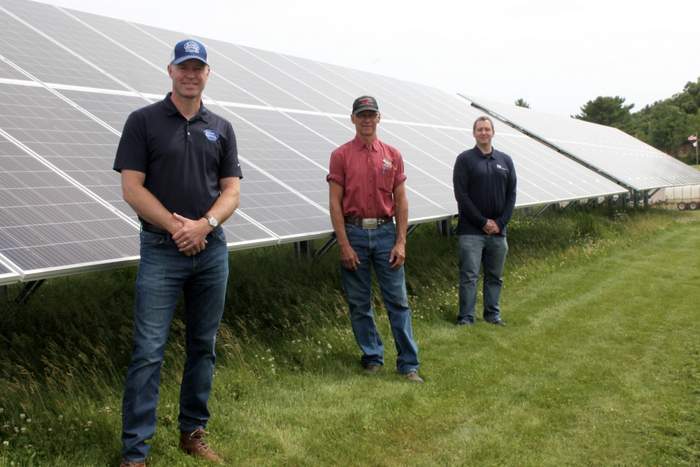 Silver Spring Foods, the world's largest grower and processor of horseradish, has made several business moves in the last three months to position the company for the future: acquire a competitive brand to close the gap on their supply due to the global horseradish shortage; pivot its business to respond to the food service impacts of COVID-19; and install one of the first farm solar arrays in Northern Wisconsin to decrease energy costs and increase sustainability.
As a horseradish fan I am very concerned about point number one, but that last bit is propbaly why you are reading this, so we will stick to that.
To further position the company for sustainable operations in the future, Silver Spring Foods' parent company Huntsinger Farms recently installed a 288-panel solar power project at its Eau Claire farm, seen above. The company received a grant from Focus on Energy to subsidize a new solar power system at Huntsinger Farms. The Huntsinger Farms solar project is one of the first farm solar installations in Northern Wisconsin.
Solar's Fastest Attachment
Damaging roof shingles used to be one of solar installers' worst challenges. Now, the easy, affordable solution is NanoMount

, SunModo's newest solar mounting innovation. Learn more here.
The solar field will generate power year-round and is estimated to supply about 18% of Huntsinger Farms' future energy demand per year.
"The solar field is an important step in planning for the farm's future," Eric Rygg, president of Silver Spring Foods. "By harnessing solar energy, we will bring energy costs down dramatically, improve overall efficiency, and move further towards sustainability."
At least 40,000 attendees at Wisconsin Farm Technology Days 2021 Eau Claire, will be able to tour the new solar field at Huntsinger Farms, the Host Farm for next year's event.
— Solar Builder magazine
[source: https://solarbuildermag.com/news/worlds-largest-horseradish-grower-adds-solar-pv-system-in-northern-wisconsin/]