Power management company Eaton today announced that the California Energy Commission (CEC), the state's primary energy policy and planning agency, has certified Eaton's Power Xpert Solar 1,670-kW inverter to operate at an industry-leading 98.5 percent efficiency. The certification demonstrates the inverter's ability to help the solar industry advance grid parity by optimizing energy harvest and reducing operating costs.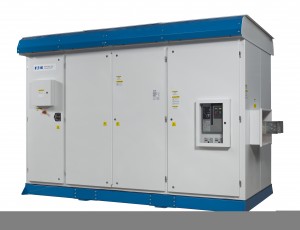 "The CEC efficiency level validation is the latest achievement that demonstrates Eaton's ability to help solar customers optimize energy harvest, and reduce up-front and operational costs," said Kleber Facchini, product manager at Eaton.
The Eaton inverter technology yields best-in-class plant levelized cost of energy (LCOE). The innovative inverter design and transformer connection is designed to dramatically reduce installation costs. With the recent efficiency level validation, customers can optimize the effectiveness of renewable energy production.
With a true megawatt inverter platform and unique transformer connection, the Power Xpert Solar 1670-kW inverter enables a skid-less inverter station designed to reduce equipment requirements and installation costs. The inverter and transformer are connected through a direct-coupled throat connection that is engineered to boost system electrical efficiency and reduce cable requirements, pad size and commissioning time. 
The inverter is designed and tested to meet the Underwriters Laboratories (UL) 1741 standard for reliable connection to the utility grid, is outdoor-rated and features a wide Maximum Power Point Tracking (MPPT) voltage range. A proprietary Eaton control strategy and optimized filter design optimizes the inverter efficiency, while the wide MPPT voltage range maximizes inverter operation time to boost energy harvest. 
The Power Xpert Solar inverter can also provide a ±0.91 power factor range without power de-rating. This technology is engineered to help developers and designers eliminate or reduce the amount of equipment required to provide power factor and reactive power (VAR) support. A fault-tolerant design helps to minimize downtime and maximize plant availability.
— Solar Builder magazine
[source: http://solarbuildermag.com/news/cec-certifies-eaton-power-xpert-solar-1-6-mw-inverter-98-5-efficiency/]