The Ice Bear 20 home cooling and energy storage system from Ice Energy has achieved a Seasonal Energy Efficiency Ratio (SEER) of 14.56 when operating like a conventional AC unit, and when operating in its ice cooling mode using stored ice, an unprecedented Energy Efficiency Ratio (EER) of 150 — more than three times greater than the next best rating, which is a geothermal system with an EER of 46.
Ice Bear explained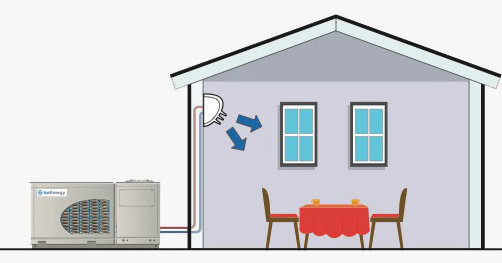 The Ice Bear 20 is a hybrid system, able to create cooling just like a conventional air conditioning unit, as well as to create, store and deliver cooling in the form of ice. The Ice Bear 20 is based on Ice Energy's award-winning Ice Bear 30 energy storage system for commercial and industrial air conditioners, but unlike the Ice Bear 30, completely replaces the conventional home AC unit. The system cools the home 24/7 to the temperature set by the homeowner, and for four hours can eliminate 95 percent of the electricity load by cooling with ice.
The Holistic Home: We peer into the future of home energy generation, usage
"The Ice Bear 20 is unlike any other home cooling system, combining the best of conventional AC technology with Ice Energy's thermal energy storage technology," said Mike Hopkins, CEO of Ice Energy. "There currently are no energy efficiency standards for a product of this kind, but we decided to put it to the test and engaged a leading accredited third-party lab to perform the industry standard AHRI SEER rating test. We were delighted to learn that when tested as if it were a conventional AC unit, the Ice Bear 20 achieved a SEER of 14.56, higher than required anywhere in the U.S. — a remarkable accomplishment given that there's much more to an Ice Bear 20 than a conventional AC unit."
Large-scale manufacturing of the Ice Bear 20 is set to begin this summer to fulfill contracts already in hand for utility-sponsored programs in California and Massachusetts. Later this year the product will be made available directly to homeowners in certain regions, including California, Hawaii, Australia and the Middle East. In California, net of applicable rebates, it will cost less than a conventional AC unit, save homeowners hundreds on their utility bills, and if they have solar PV, also store their solar energy.
— Solar Builder magazine