Concrete may still be king, but new solar foundation options are threatening to take over the empire.
By Charles W. Thurston
Choices for PV solar system foundations are becoming more varied as balance of system (BOS) component manufacturers seek to lower total system costs and speed installation. New technology concepts using concrete and metal are on the market, and better engineering designs to minimize the use of all materials are continuously emerging. As a result, installers have available a much wider range of options for a specific client site, regardless of the soil type or weather conditions.
Rethinking Concrete
Concrete foundations in solar systems used to be over-built and under-engineered, adding time and cost to the total system price One new Californian concrete foundation system that also serves as a racking mount reduces mounting metal to a single strut. This system design by Alion Energy, based in Richmond, Calif., virtually does away with a traditional foundation. The company's solution employs a robotic cement extruder — Rover — that lays a continuous L-shaped form to support solar modules that are fixed into place with adhesive. Adjustment is made for inclination by means of a single fold-down vertical metal strut.
Not only is the foundation and mounting combined into one unit, the entire system is installed by Rover the robot. Using Rover instead of man-power, utility-scale projects can be built twice as fast and use half the labor, calculates CEO Mark Kingsley.
The Alion system features 775-ft long rows with a cabling section in the middle. Each row supports 144 modules, and using 245-watt panels would provide a 35-kW system. The design is particularly useful in high soiling regions, since the company also invented a robotic module cleaning robot — Spot — that rides the mounting rail to get from panel to panel. A demonstration unit is under construction in California, Kingsley notes.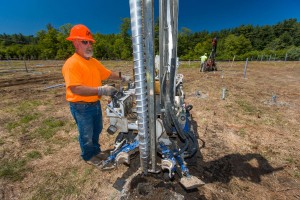 Screwing In
While new focus on customized site engineering has reduced the use of concrete monoliths, driven metal piles or screw options have become more popular to speed installation times. For example, Estero, Fla.-based TerraSmart's ground screws are widely in use. One recent 6-MW project developer in Bolton, Mass., chose TerraSmart screws because of the rocky ground conditions. The company reckons that 150 of its large machine-driven ground screws can be installed in one day and inserted into solid rock with a pilot hole. The Bolton project used more than 3,300 TerraSmart ground screws.
Another specialized screw in use in locations with frozen ground is from AllEarth Renewables, based in Williston, Vt. Its screw is 8 ft long and about 1 ft wide, with widely spaced helical threads.
"We designed our screw for our tracker product and use it when ground conditions permit," says Andrew Savage, director of communications. "A little frozen ground is good because you don't get as much mud. But if there is too much frozen ground, you've just got to wait."
One metal-based foundation system that functions much as a monolithic concrete block is DEGERenergie's pyramidal "Steel-Root" metal base.
"You just dig a hole, put in the frame and refill the pit," says Adam J. Glapiak, the international sales manager for the company located in Horb, Germany. The metal frame rests on five flat plats at the base of the pit and the entire structure supports a metal post for a tracker.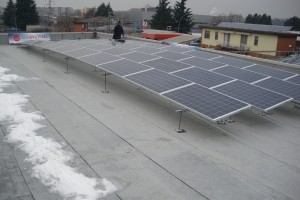 Wired
Some metal foundation systems are replacing the use of concrete and speeding installation, but sometimes metal is a higher cost. Reducing the volume of metal within these systems helps to cut costs. One new system from Italy cuts the amount of metal from a traditional post and bar structure by 50 percent. The SunNet ground system from A+ Sun Systems of San Bonifacio, Italy, uses horizontal runs of wire rope up to 200 m long, stretched between small anchor screws that can be driven with hand-held hammer-drills, says Alberto Di Gaetano, CEO of the company.
"We prefer to use several smaller screws than use one very large one that requires a heavy machine," he says. "That gives us an advantage in more remote locations or difficult access locations."
The wire rope is certified for use in elevators and can handle far more stress than the solar modules it supports, Di Gaetano notes. The A+ Sun System is not only good for very steep slopes, where only the top and bottom need anchors, but it can also be used in 100 percent vertical situations, like the side of a silo, tank or building.
When simple penetrating and ballasted mounts are just not enough, many new options are out there for project developers for foundation support.
Charles W. Thurston is a freelance writer who covers solar energy from Northern California. Reach him at chazwt@gmail.com.
— Solar Builder magazine