The HitchClip provides a level of protection to installers working on sloped roofs.
The solar industry is drowning in choices for mounting, inverting, combining and more. But one thing the industry is thirsty for is safety equipment and fall arrest systems, especially for residential rooftop installs. The HitchClip, manufactured not specifically for solar but for the roofing industry, provides contractors with a useful alternative to bulky, awkward safety equipment. Instead of being burdensome, the HitchClip integrates rooftop safety with production, and all solar rooftop installers should take notice.
Scott Fontaine, a founder of SAFE Acquisition LLC, the force behind the HitchClip product (and recently acquired by Guardian Fall Protection), was a general contractor for 30 years before branching out with safety equipment manufacturing. He knows first-hand the issues with safety and production up on the roof.
"The biggest problem across the nation is guys just don't use it," he says of safety equipment. "They're starting to buy it and they have it scattered around on the roof so it appears that they're using it when OSHA shows up. They're hoping to not get fined."
Mike Vasquez, product consultant and research and development with SAFE, says that the OSHA guidelines vary across different states, but the main rule is that if you're above 6 ft (whether on scaffolding, a roof, a ladder or anything), you need to be tied off. Many contractors don't understand the consequences of a fall.
"Guys just really aren't aware of what the ramifications are from taking a fall and how to prevent those things," Vasquez says. "They just want to get the job done, and they think that anything with fall arrests — their lifelines, their harnesses — takes time to set up to stay in compliance."
Fontaine says the main issue is that most safety equipment is cumbersome.
"When you have equipment that slows you down when you work, you lose money and go out of business," he says. "Contractors are a pretty surly group. They're not going to do what they don't want to do, and they're certainly not going to do what slows them down and costs them money."
So Fontaine started focusing on marrying safety with production. He began coming up with systems and playing with them at his jobsites to see what worked and what didn't.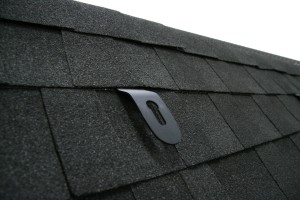 "As a builder, every day I had to fix problems and figure things out and jerry-rig stuff to get through the day," he says. "I put it into research and development where I actually built equipment to do the job and I was able to field test it every day until I got it just right. I made it so that it actually made you work faster not slower, having that safety factor in there as well to appease OSHA."
The HitchClip was born. Made of light-weight aluminum, it functions as a permanent rooftop anchor. The top of the product fastens to the roof, while the bottom has a patented key-hole design, which allows users to attach safety equipment and other SAFE accessories directly to the anchor. The HitchClip comes in three colors — grey, black and brown — and blends in with surrounding shingles and tiles.
SAFE expects big things for 2014. Now in its fourth year of existence, the company has a partner in Guardian Fall Protection, a manufacturer and provider of fall protection solutions. Guardian holds a worldwide license on the distribution of HitchClip and its accessories. SAFE's partnership with Guardian has opened up many new distribution channels, allowing the company to focus more on R&D.
In addition to the HitchClip, Guardian sells the SAFE-designed Roof Jack (a staging area), Bunk Jack (an oversized Roof Jack for larger materials), Platform Stage (creating a ladder and staging system in tight spaces), Workbench (a portable rooftop work area to perform cuts or tooling), Guardrail (a guardrail that attaches to the Roof Jack) and now the Solar Mount, a mounting system that uses the HitchClip. The HitchClip acts as a base, and the Solar Mount clicks right into it. Panels can be mounted in both portrait and landscape arrangements. Installers can combine SAFE's fall protection, production staging and solar mounting now into one system.
"The HitchClip is an anchor for your fall arrest system, but the keyhole design also accepts all of our line of production equipment that quick connects into the keyhole," Fontaine says. "Not only are you tied off, you have a whole series of staging equipment and guardrails and other safety items that basically make it a complete system."
Encouraging the effective use of safety anchors was one goal for SAFE, but then providing even easier ways to get the job done was an added bonus.
"All anchors that are on the market right now, that's all they are — just a hook-up point," Fontaine says. "We built off of it. We made it low-profile, and it comes in different colors so it blends seamlessly into the roof. It gives them so much more."
HitchClip is designed to be a permanent fixture on a roof, but Fontaine says every contractor is going to choose a different way to use it. They can be temporary and moved around, but once contractors get used to using them, they'll find that leaving them in one spot works the best. Since the HitchClip comes in roof-neutral colors, they're not an eyesore, and contractors can easily have a whole array of work zones on the roof without anyone being able to tell down below. Permanently securing HitchClips to a roof makes it easier for future maintenance, too.
"Anywhere there's a rafter next to you, you can screw it on and have an anchor point within a few feet of you," Fontaine says.
After 30 years up on roofs, Fontaine jokes that he doesn't mind not having to climb up there every day and work in the rain. He's found a new, rewarding career helping contractors stay safe and still be productive.
"It's rewarding to use my knowledge now to help guys out," he says. "At shows, it's so much fun showing off the product to guys who haven't seen it before because you can just see the light bulb go off. It's one of those 'Why didn't I think of that?' products."
Vasquez agrees that his 23 years as a roofer and framer help him produce better products for those on the job.
"We develop products that we've talked to contractors out there that need a solution for something, and we come up with it," he says. "We know how to implement it into a project as opposed to an engineer. Anyone can draw up a design, but to actually implement it into the field is where we separate ourselves from the rest of the pack."
— Solar Builder magazine